About Togari Onsen Ski Resort

Togari Onsen Ski Resort is a uniquely reverse v-shaped resort that was built with an eye towards the training of GS skiers. It's still a local ski field that's not much frequented by foreigners, mostly because it appears as the poorer cousin of the very popular Nozawa Onsen across the valley or Madarao Kogen up the road. There are two sides (Orion and Pegasus) to the resort with two bases – each with their own village and community onsen. The Casseopeia area joins up the two zones but, being a bit flat, snowboarders may wish to avoid this where possible. Intermediate skiers and snowboarders have a handful of runs of varying pitches, and there are lots of spots to jump off the piste to experiment in the powder. The black runs are short and not particularly steep.
The relative lack of foreign powderhounds means late in the day you are often still able to find some fresh lines. The runs are wide and large sections of ungroomed are left at the side of most of the runs, making it great territory for intermediate boarders who want to get their powder wings. For those wanting to head off-piste, there are minimal ropes, with the exception of some to discourage you from riding the lift lines. The off-piste areas are quite heavily treed so it can be a bit hard to find your way – be careful of gullies.
Need a place to stay? Head to our Togari Onsen Ski Resort accommodation site for lots of Togari accommodation options!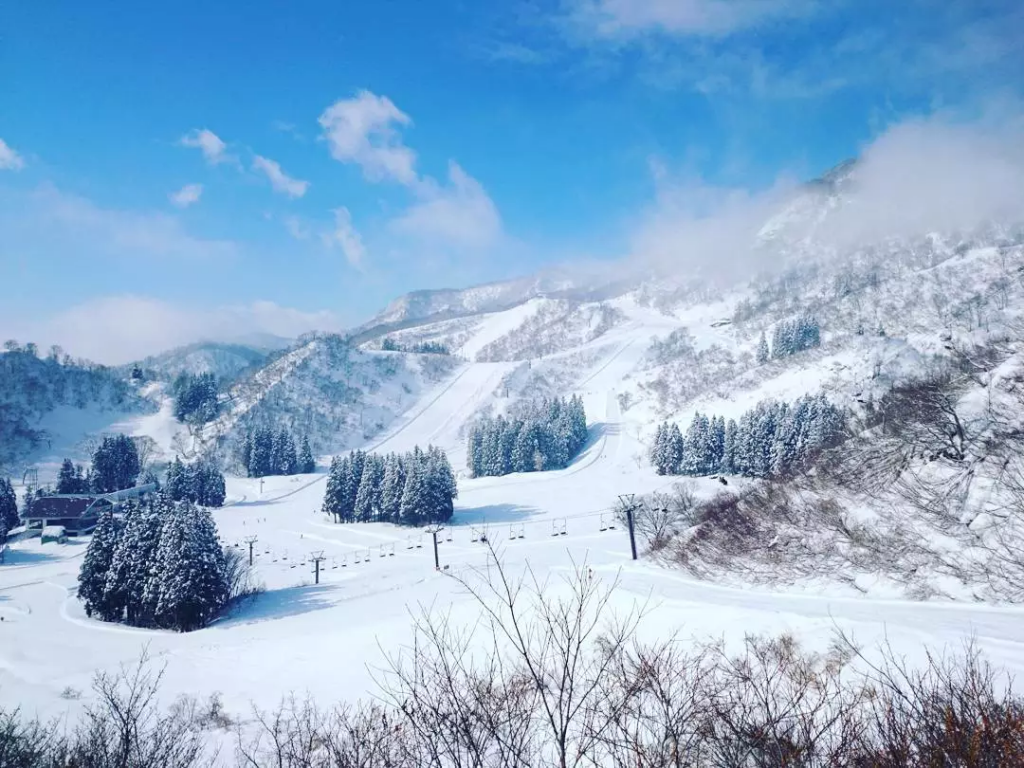 More about Togari Onsen Ski Resort
Togari Onsen's tranquil atmosphere is largely because it was not originally a ski resort. Local people have lived in the village for over 1,000 years. It is a village first, and a resort second. This means the local culture is genuine and intact. A stay in one of the many local accommodation options will provide a unique experience. But just remember, there's not much English spoken in Togari Onsen
Togari Onsen Info Box
Overview
Lift Tickets
Webcam
Weather
Trail Map
Video
Access
Stay
Eat
Onsen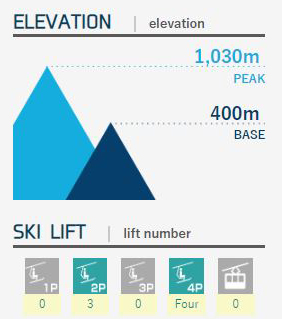 Quick overview
Top Elevation: 1,030m
Bottom Elevation: 400m
Vertical: 650m
Courses: 18
Longest run: 3,000m
Steepest pitch: 34°
Lifts: 4 x Quad and 3 x Pair
Terrain: Advanced 20% / Intermediate 40% / Beginner 40%
Park: Beginners park area, Free Run Park and mogul course.
Night runs: Only certain nights of the season. Check with your accommodation.
Kids: Two 'Kids Park' areas – at the base of both the Orion and Pegasus areas. A free indoor 'Kids Room' is also available at 2F Hoshifuru Restaurant (Pegasus Slope – OPEN:8:30-16:30). No supervision or child care is available.
What's different: Togari Yukichari Snow Park offers fat bike runs on the snow.
Togari Onsen Ski Resort Lift Ticket Charges (2019/20)
| | | | | |
| --- | --- | --- | --- | --- |
| | Adults (16+) | Child (6-11) | Child (12-15) | Senior (55 +) |
| 1 Day | 4,200 yen | 1,500 yen | 2,800 yen | 3,800 yen |
| 2 Days | 7,500 yen | 2,500 yen | 4,300 yen | 6,600 yen |
| 3 Days | 9,900 yen | 3,500 yen | 5,500 yen | 8,000 yen |
| Half Day | 3,000 yen | 1,000 yen | 2,200 yen | 2,500 yen |
| Single Ticket | 500 yen | 300 yen | 400 yen | 500 yen |
| Nighta (5:40pm-8pm) | 1,800 yen | 800 yen | 1,300 yen | 1,800 yen |
| Season Ticket | 40,000 yen | 15,000 yen | 20,000 yen | 30,000 yen |
There are a number of discount passes available. People 70 years and older can use the same rates as younger children (6-11), whilst children five years old and younger can ride the lifts for free. There are even excellent ticket packages that include lift, lunch and onsen.
If you bring a personal season ticket for one of Nozawa Onsen, Kijimadaira or Madarao Kogen ski resorts, you can get a 1,000 yen discount on your daily lift ticket!
Cheaper lift tickets are available at the beginning of the season (until late December) and for the spring season (from late March). Various online specials can also be found (in Japanese only). Togari Onsen may have one of the cheapest season passes in the world. When on pre-season special it is only 30,000 yen for adults and 10,000 yen for kids for a whole season of skiing! See the official Togari Onsen ski page here.

Togari Onsen Webcam
| | |
| --- | --- |
| Pegasus Gelande Togari Webcam | Cassiopeia Slope Togari Webcam |
| | |
Togari Onsen Ski Trail Map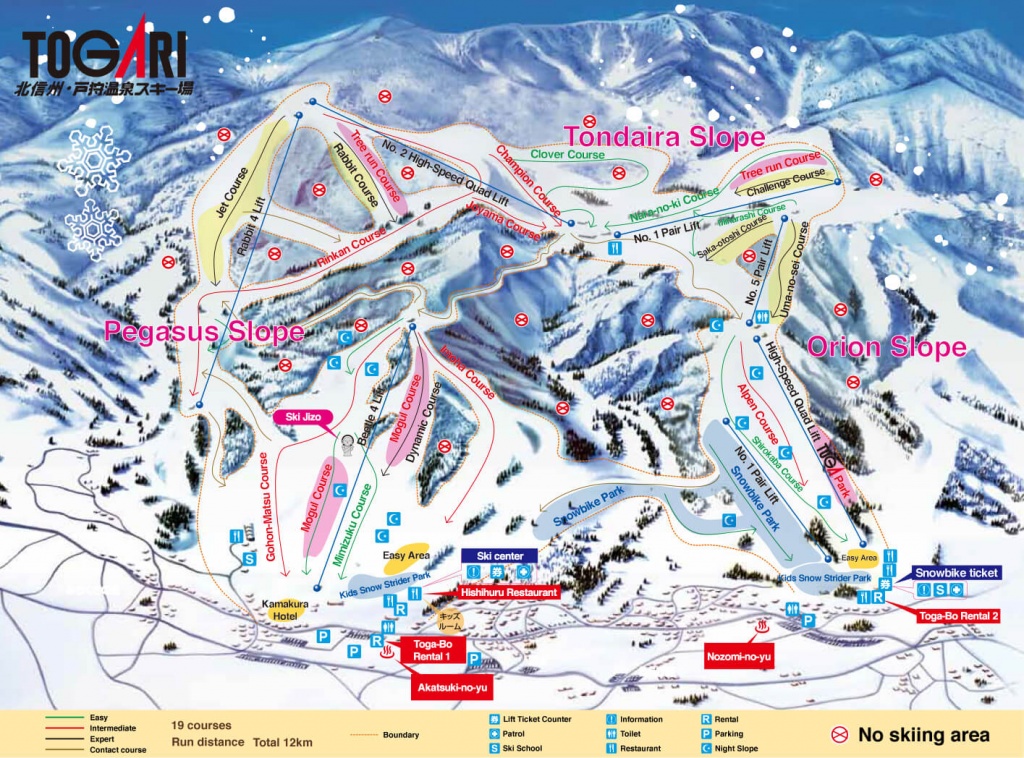 Togari Onsen Ski Resort videos
Click here for a longer Togari Onsen video
Where is Togari Onsen Ski Resort?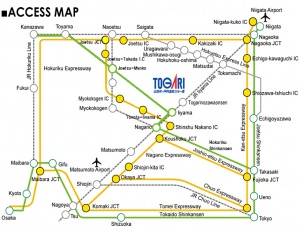 Togari Onsen is located 43 kilometres northeast of Nagano City. It's 10 kilometres west of Nozawa Onsen Ski Resort, right opposite across the valley. Togari Resort is 12 kilometres north of Iiyama City and its shinkansen station. Click here for a map to Togari Onsen
Getting to Togari Onsen Ski Resort from Tokyo
Nagano to Togari Onsen
If you are coming by car it is 18 kilometres from the Toyota Iiyama IC on the Joshinetsu Expressway. From there follow Route 117 and look for the turn off on the left to Togari Onsen. The car park is 3 kilometres from R117.
If coming by train you can catch a bus or taxi from Iiyama Station (shinkansen station) or TogariNozawaOnsen Station (JR Iiyama Line). There is a direct connection bus from the shinkansen at Iiyama.
Getting to/from Togari Onsen Ski Resort from Nozawa Onsen
There is no public transport from Nozawa Onsen to Togari Onsen. A taxi will cost roughly 5,000 yen or you could ask if your Nozawa accommodation can provide a transfer.
Getting to/from Togari Onsen Ski Resort from Madarao
There are no public transport options directly from Madarao to Togari Onsen. You can catch a bus to Iiyama Station, then another to Togari Onsen. A taxi will cost roughly 6,000 yen. You can also ask if your Madarao accommodation can provide a transfer.
Togari Onsen Ski Resort Accommodation
Lodging and meal costs at Togari Onsen Ski Area are very reasonable. There are various options for inexpensive Togari accommodation near the two bases of the ski resort with a handful (such as Kogenso and Hunters Gate – see below) located in ski-in positions. Pensions or minshuku are by far the majority in accommodation styles. Whilst some properties may have western beds you'll find virtually none with ensuites. Some lodgings have their own in-house onsen for bathing.
Recommended Togari Onsen accommodation
Kogenso

Kogenso (see reviews) is a unique ski-in, ski-out 8 room shukubo (temple guest house). All the rooms are Japanese traditional style with shared bathroom, toilets and free wifi. Guests can view the temple during their stay and also experience zen and reading sutras. Book now!

Hunters Gate
At Hunters Gate Lodge (see reviews) you can ski to the door and lifts from this private 7-bedroom self-catering lodge at Togari Onsen Resort. After a great day on the slopes, relax by the fire with all your family and friends in the stylish kitchen/dining room. Book now!
Shikisai No Yado Kanoe

Shikisai No Yado Kanoe (see reviews) offers 16 warm, comfortable rooms (14 Japanese style with beautifully renovated tatami mats and 2 Western) along with 4-room annex capable of welcoming up to 16 additional guests. Some rooms are equipped with en-suite toilets. There is direct trail access and some of the best food in the region that attracts locals and tourists whether they stay overnight or not. Book now!
Head to our Togari Onsen Ski Resort accommodation site for lots more Togari accommodation options!
Places to eat and drink in Togari Onsen
There used to be a bit of life around at Togari Ski Resort when the university students used to flock to the resort for the cheap skiing available. It is much quieter now though but there are still some nice food and drink options.
Kua Thai (see reviews) is run by Mullika Maruyama – a lovely Thai lady originally from northern Thailand. The restaurant is located on the Orion side of the mountain.
Head in and grab a delicious coffee or a hot toastie at Samurai Coffee. Located just down from the lifts at Togari Onsen Ski Resort Orion base, and right next door to Nozomi no Yu onsen. Also serving breakfast toast buffet 6-8:30, and crepe and drink sets 3-6pm. Vegetarian and vegan options available.
Penticton (see reviews) has a cosy and cute environment, with good examples of Japanese curry on the menu. Some of the ingredients are locally sourced. The restaurant's claim to fame is the yaki-curry served in a big bowl with melted cheese. The server also brings a basket of toppings to the table, such as pickles, shallots, tiny shrimp and parmesan cheese so you can season your dish any way you like.
More Togari Onsen bars & restaurants
Ambis (see reviews) is a cool little bar that fits about a dozen people maximum. Cocktails, beer, Japanese liquor and finger food available.
Fresh is always best, so Mitsuwaya Cafe down the hill a little uses seasonal produce in their everyday menu. Family favorites like ​oyakodon​ and ​katsudon​, and set meal "​teishoku​" bento boxes are available (see reviews).
Hashiba (see reviews) is Togari's long-established specialty yakitori restaurant that is beloved by locals. Specialising in the kind of food that your Japanese mother would make, it has a downmarket vibe, but a whole lot of soul.
For breakfast stop by Resthouse Togari for a pancake stack and coffee (see reviews). Nearby is Lamp Shokudo for a mixture of Japanese and international foods (see reviews).
More Togari Onsen restaurant info here.

Places to soak in Togari Onsen
Togari Onsen has two well known rotenburo (outside pools). Just a minute away from the Togari Onsen Ski Resort's Orion slopes, Nozomi No Yu includes outdoor hot spring baths with a view of the gorgeous natural landscape. Akatsuki No Yu is located a short walk from the Pegasus slopes at Togari. Both of the outdoor baths are a great place to relax and enjoy views of the natural landscape. The water is said to promote beautiful skin, as well as easing muscle soreness, body aches, and stress-induced tension. During the winter, they are especially good for some post-skiing relaxation. Opening hours are 11 am – 9 pm. See website.

For more onsen to visit in the area check out our local onsen information page here.
Reviews of Togari Onsen Ski Area
Rate Togari Resort

Read and review
Togari Onsen Ski Area here
.
Contact Togari Onsen Ski Resort
Visit the official Togari Onsen Ski Resort website here (Japanese only)
Page tags: Togari Onsen, Togari Ski Resort, Togari Onsen accommodation, Togari Onsen Ski Resort, Togari Onsen Ski Rental, Ski Resort near Nozawa Onsen, Getting to Togari Onsen, Where is Togari Onsen Ski Resort?