Need Madarao Ski School ski lessons, ski guiding or Madarao ski rentals in English while you are in Madarao Ski Resort?
Keep scrolling to the bottom for Madarao childcare options.
Madarao Ski School | Madarao Kogen Ski Rentals
There are some good Madarao Ski School options, both adult classes and kids ski school classes. English-speaking ski instructors are available for both group or private lessons. There are plentiful establishments to arrange your ski and snowboard rentals in Madarao Kogen and at usually very competitive rates. Larger foreign boot sizes are not difficult to find (apart maybe from size 12 up!). It is highly recommended to pre-book all ski equipment.

Please fill in the booking form at the bottom and we will get back to you with a confirmation a.s.a.p. No matter how young or old, new or experienced, we can help arrange a variety of packages to suit any needs. If you're coming to Madarao Kogen with the intention of learning how to ski, then you'll find there are some excellent Madarao ski schools willing to help you out. We can also help get you kitted out with a great price on Madarao ski rentals, snowboards and gear.
Note: If Madarao is not showing on the form, enter Nozawa as your choice and click 'next'. Click 'Lesson' then enter Madarao as your requested choice within the 'comments or request' section.
Form not working? Contact us here.
Madarao Ski Schools
Action Snow Sports
Action Snow Sports International are the first official English speaking snowsports school in Madarao, offering both group and private lessons, discounted multi-day lesson packages and a range of 3-5 day ski improvement clinics. There are also multi-resort day trips available as well as Explore – a guided three hour tour of both Madarao & Tangram.
'Tanuki Kids' and 'Kamuska Kids' are half and full-day group ski programs for children 3-6 & 7-14 years old,  ensuring your child a professional and memorable holiday skiing & boarding experience. Action Snow Sports' specialist children's instructors will ensure your child has tons of fun and improves their skiing & Snowboarding, while safely exploring the mountain. Book your Madarao ski school lesson online now! For for more information email directly to Pete via info@actionsnowsports.com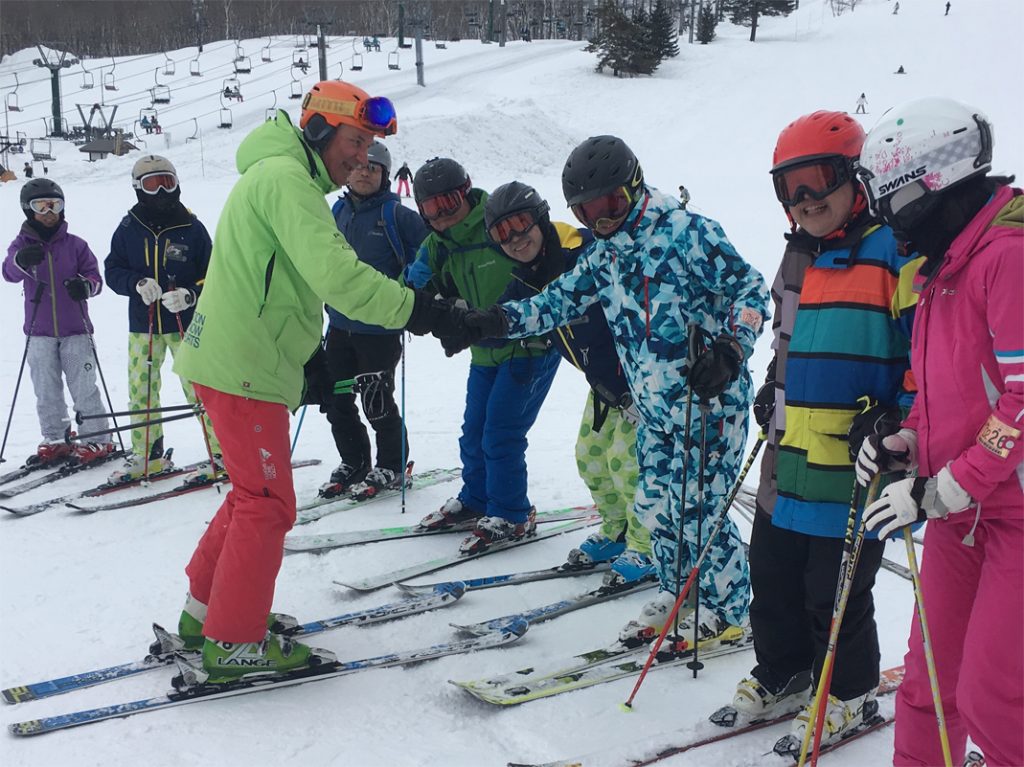 Need a car? Madarao car rentals. Pick up at Iiyama Station.
Japan Snowsports
Japan Snowsports is an international snowsports school based in Madarao. They are a group of highly qualified instructors and guides with many years of experience who teach and guide on skis and snowboard, from first-timers to expert level. They operate all over Japan but mainly focus on Nagano and Niigata ski resorts. Let them know where you are planning to go and they will come to you! They believe in a personal approach and a product fully catered to your wishes. This can include accommodation in their own lodge in Madarao.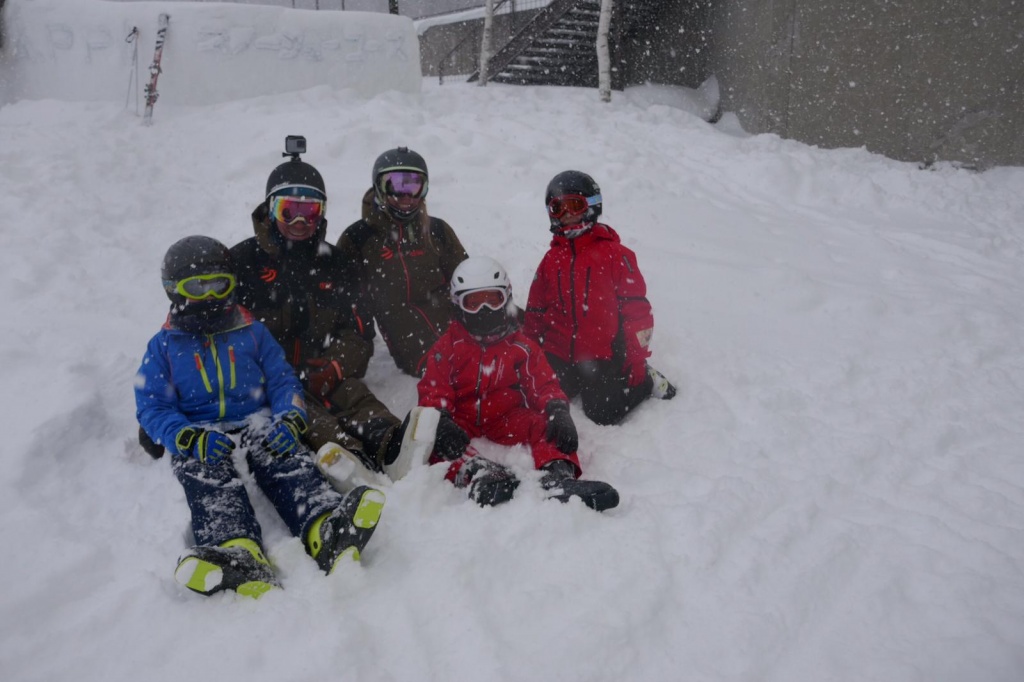 Services offered include the following:
Private lessons:
Private lessons are designed to improve your skiing or snowboarding and cater to every level, from first timer to expert.
Resort guide:
If you are an intermediate or above skier or snowboarder and are new to a resort or you want to find the best and secret powder stashes, this is the product for you.
Touring:
Are you fit and adventurous and at least a high intermediate skier or snowboarder and ready to earn your turns? Grab your snowshoes, tour skis or split board and get away from the crowds and the ski lifts. Enjoy nature at its best while hiking up and set your most rewarding lines on the way down.
North Nagano Outdoor Sports
With many years of local Madarao experience North Nagano Outdoor Sports is one of two official ski schools in Madarao. They offer group and private lessons for both kids and adults. This Madarao ski school can also provide private lessons including transport to Nozawa Onsen or other nearby ski areas.
For those looking to sample Madarao's reputed backcountry, North Nagano Outdoor Sports also offers guided tours of the Madarao side/backcountry. These tours begin running in late December and continue throughout March. See our Madarao backcountry page for more info.
Family Ski Japan
Family Ski Japan offers enjoyable ski instructing tours arranged exclusively for your family or group. All different levels can be adapted and catered for – from beginners to advanced. All family members can ski together, even with differing abilities.
Madarao Sports Academy
Madarao Sports Academy is an official Ski Association of Japan (SAJ) ski school offering half-day or full day private lessons in English or Japanese. Group lessons are only available in English if booked through Family Ski Japan (see above).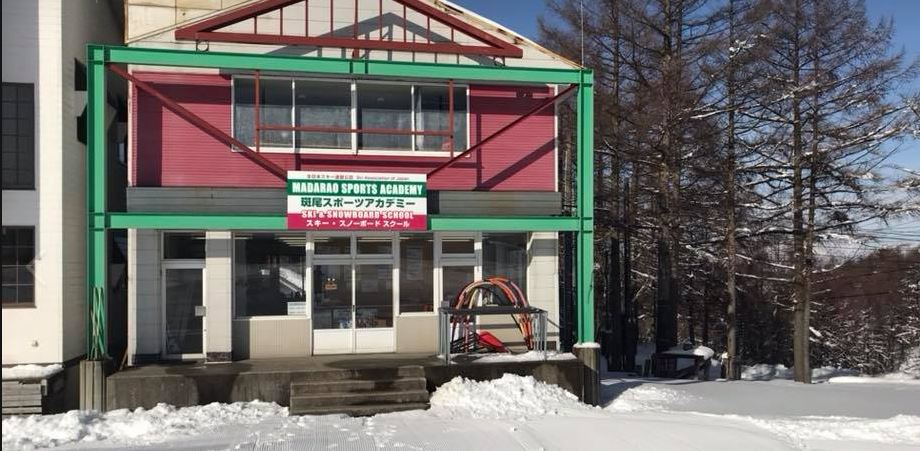 Are you staying in Myoko Kogen but hoping to ski Madarao? Talk to Myoko Snowsports in Akakura.
Tangram Ski School & Rentals
If you are based in Tangram rentals ski rental are available at Ogasaka Friendly Centre, whilst there are ski lessons available for kids and juniors.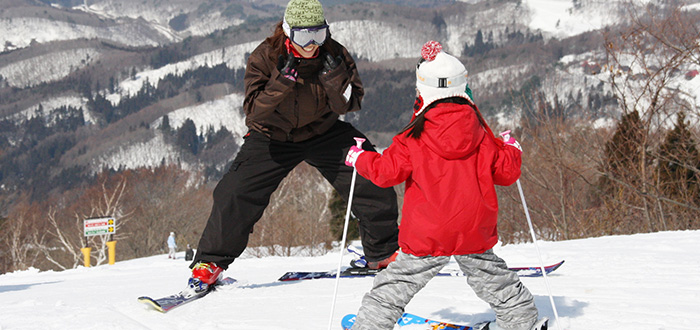 Madarao Ski Rentals & Snowboard Hire
With the growing interest in the area, a few new options for Madarao ski rentals have sprouted. Apart from the below there is also a simple ski rental shop next to the Madarao Snow Academy, and various local Madarao pensions rent out gear. Check with your Madarao accommodation when booking.

Shirakaba Ski Rentals Madarao (Powder Station)
Shirakaba Rentals are a long standing local operation located at the side of the Madarao Kogen Hotel which are open from 8:30am to 5:30pm daily. There is basic equipment for adults and kids, as well as a range of fat skis and performance gear including K2, Salomon, Volkl, Atomic and Rossignol. A set of skis, boots and poles can be rented for ¥3,700 per day. Multi-day discounts are available but minimal. Options for more experienced skiers are also available.
Active Life Madarao
The Madarao ski rental shop connected to Active Life Madarao (Miyuki Snowsports) offers an extensive range of hire gear available (around 200 full sets) for their guests including snowboards, skis, poles, boards, boots, jackets, and pants.  They stock brand new high-performance powder and all-mountain gear that is well known brands and ideally suited for Madarao conditions. They also offer ski lessons in Madarao for their guests.
Chill Madarao
Situated just near the lifts the Madarao ski rental shop at Chill Madarao boasts a full suite of brand new equipment to cover all of your needs. Their range of gear includes regular, performance, and powder skis & snowboards, as well as boots — catering for ability levels from beginner to expert. They also stock a full range of children's skis & snowboards.
Not recommended
Ski Hire Madarao is a Madarao ski rentals shop located next to the Hotel Madarao (formerly Resort Inn Madarao). However, due to a string of very poor reviews, we cannot recommend this business.

More information on Madarao ski rentals & ski school
No matter what level you are currently skiing at the rustic and beautiful Madarao Ski Resort will keep you happy all day. The ski schools at Madarao Kogen can offer a variety of lessons and activities throughout the Madarao ski season suited to the very young to the not so young, from absolute beginners to powder hungry snowboarders or would be downhillers. Madarao ski schools are a good place to advance your skiing and snowboarding skills, gain useful advice and swap ideas with instructors and classmates. When choosing your Madarao ski rentals just remember that there are long, gentle cruisey slopes ideal for wide turns as well as more challenging slopes or trees to keep the interest of those starting out in addition to those looking to push their limits.
Please note that some Madarao Ski School lessons may be full depending on the number of instructors available and the number of pupils enrolled on that day.
Kids snow play | Childcare in Madarao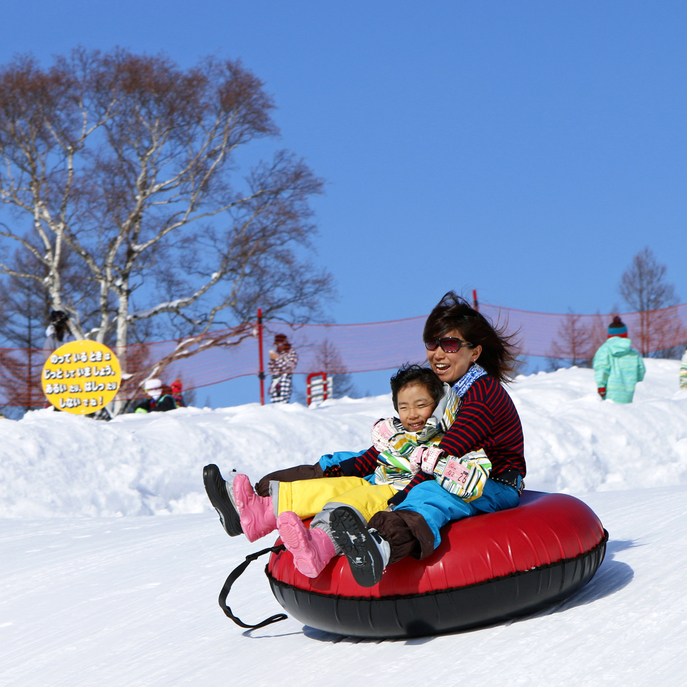 There are some excellent kid's snow play opportunities, kids activities, child care and snow playgrounds available.
The Madarao Kids Park is popular with children – and also their parents! It is set up on the side of a regular ski run but also has lots of fun stuff like sleds, snow tubes and a Japanese style igloo for the kids to enjoy. There is also a 'snow fun corner' where anybody can have fun in the snow regardless of age or ability. The entry fee of 500 yen per person includes kids park admission and use of the special snow escalator, making it easy for even small children to move around. The Sky House ('Sora-no-ie') Kids Room is available free of charge and is located close to the park. You can warm up, seek refuge in extreme weather, or rent out sleds for 800 yen per day (or your accommodation may be able to lend some to you).
Madarao Child Care Facility 'Tsumiki no Heya'
Tsumiki no Heya (The Building Block Room) child care facility is located inside the Madarao Kogen Hotel where you can leave your children (1-5 years old)
* Open from 9:00am until 12:00pm and from 1.30pm until 4.30pm.
* Costs are 3,000 yen for a half day; 5,000 yen for a full day.
* Children older than one year old only, five year old maximum.
* Bookings are required and can be made at the Madarao Kogen Hotel
* Do not contact us (Destination Madarao Kogen) to request bookings! Please do so directly with the hotel or ask your Madarao accommodation to arrange it for you.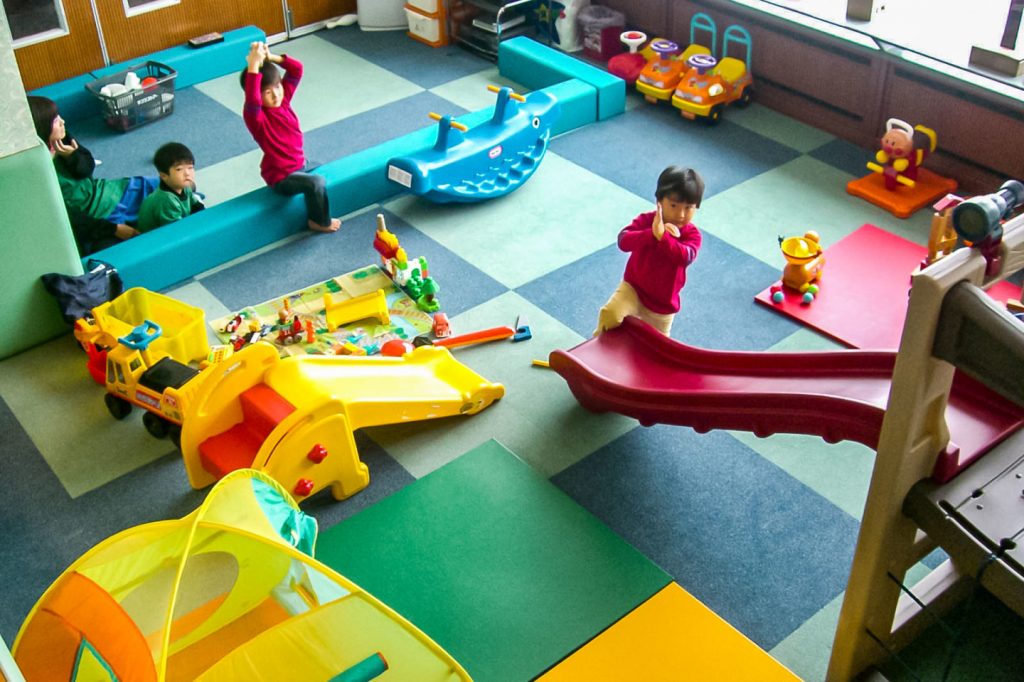 You can check out more of the resort-based options available on the Tangram and Madarao resort pages.
Tags: Madarao Kogen Ski Rentals, Madarao ski school, Ski lessons in Madarao, Ski rentals in Madarao, ski schools in Madarao, Family Ski Japan, North Nagano Outdoor Sports, Action Snow Sports, Madarao Sports Academy, Shirakaba Ski Rentals Madara, Powder Station, Madarao Kids Park, Madarao Child Care, Child Care in Madarao Kogen, Madarao Kids Lessons