"We loved Alp Bach Madarao!" (Review)
Looking for Madarao accommodation that is great for families and/or couples? Mine hosts Naoko and Ukihiro will make you feel right at home at Alp Bach Madarao Lodge with an intimate family friendly atmosphere. Located right in front of Madarao Kogen Ski Resort's ski slope, you can ski right to the front door.
Alp Bach Madarao Lodge
The hotel has only nine rooms, all done in Western style with dark wood flooring, a small sitting area. Featuring a wooden floor and heating facilities, rooms come with down-filled quilts and each room has a small bath/toilet/shower. One bedroom has four beds, another one has three beds, and the rest have twin beds.
The Madarao Alp Bach Lodge features a relaxing living room with sofas and a fireplace, a lobby with a heated Teppeiseki stone floor and antique furniture. Ski passes are sold at the front desk, while facilities include drinks vending machines and free parking. Ukihiro is a local pro ski instructor Madarao and happy to point you in the right direction for powder spots and ski rentals.
Alp Bach's restaurant serves delicious European influenced cuisine for breakfast and dinner (additional cost), featuring fresh local produce. Although the hotel does not have an onsen hot spring onsite, you may use the public onsen in Madarao Kogen hotel.
The property is a 30-minute bus ride from JR Iiyama Train Station, and a 30-minute drive from Myoko-Kogen Train Station. There is a complimentary pick up from the Madarao Kogen bus stop.
Book Alp Bach Madarao Lodge now!
Read reviews for Madarao Alp Bach Lodge
Check other Madarao accommodation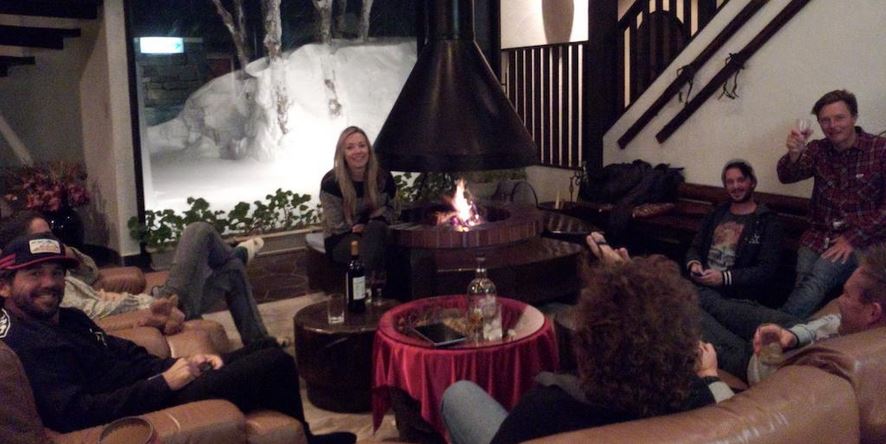 Madarao Lodge Alp Bach video
Thank you for viewing Alp Bach Madarao Lodge – see more choices in
Madarao accommodation
.
Tags: Alp Bach Madarao Lodge, Madarao Ski Lodge