Looking for things to do in Madarao Kogen? The area boasts rich cultural traditions handed down throughout recent centuries. Depending on the season you travel, you will either be met by a magical winter wonderland with ski slopes and snow festivals, the blooming of the cherry blossoms, a lush green summer environment of blossoming sunflowers and delicious fresh vegetables, or the gorgeous hues of autumn. Whichever season you come to visit you can expect to experience some wonderful activities and view the beauty of nature.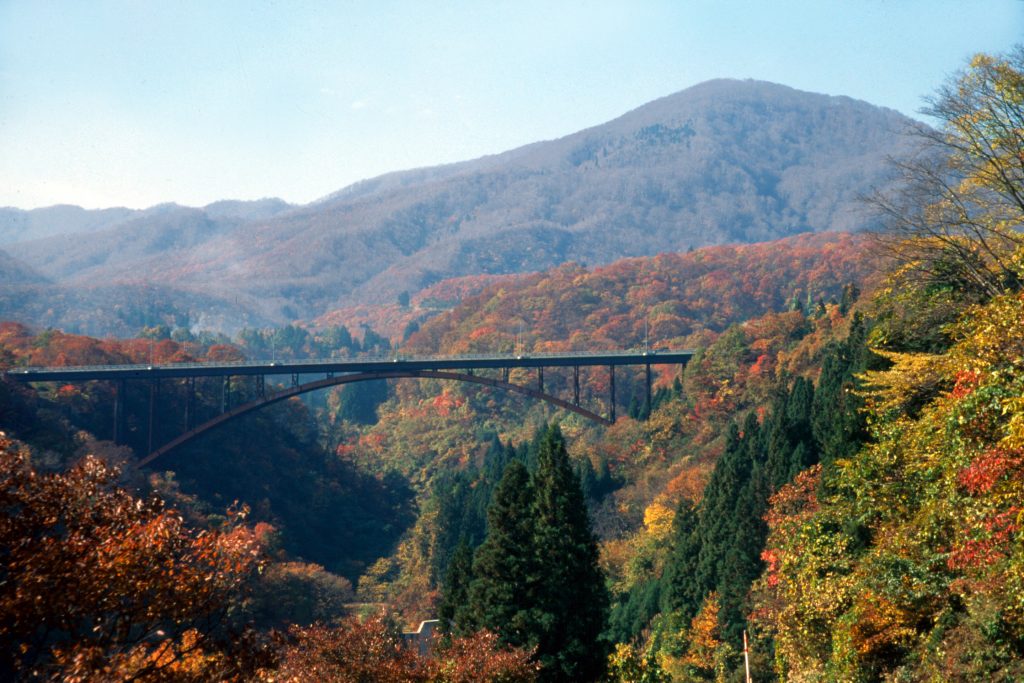 Things to do in Madarao
A background
Iiyama (the city within which Madarao Kogen is located) claims the name 'Snow Country's Little Kyoto,' (first described as such by Toson Shimazaki – a Meiji period novelist) for three reasons. First, it is located in the northern region of the Nagano Prefecture, central Japan that receives a large amount of snow between mid to late December and March/April. Second, like Kyoto, the area is rather sacred and is the home of many authentic temples of historical significance. Finally, the "little" comes from the nature of the area. Whilst by no means "little" in the sense of area (it is actually quite huge), Iiyama is little in a rustic way. Because the focus seems to be on a rural, traditional Japan, the local people seem to make active efforts to keep the natural beauty of the area alive, and avoid becoming just another modern tourist ski resort.
Click on the following for onsen and shopping information
The region is filled with a rich natural environment suitable for numerous kinds of outdoor and indoor activities, ranging from visiting the Mayumi Takahashi Museum of Doll Art to hiking the mountain ranges of the Shinetsu Trail. Its numerous sightseeing spots also include the Chikuma River, which is known as Japan's longest. The city is also filled with a warm and friendly community, welcoming travelers and showcasing their cultural traditions through activities such as fruit and vegetable picking as well as the various festivals that take place throughout the year.
Need a place to stay?
There's a wide variety of accommodation in Madarao Kogen to suit all tastes and budgets from small cosy family pensions to newly renovated lodges, backpacker/hostel type offerings plus some large resort type hotels with great facilities like indoor heated pools. You can check out all the options here or go straight to our secure Madarao booking engine for some great deals. Need some help choosing your Madarao hotel? Contact us via the form here.


Need a car? Madarao car rentals. Pick up at Iiyama Station.
Things to do in Madarao (all seasons)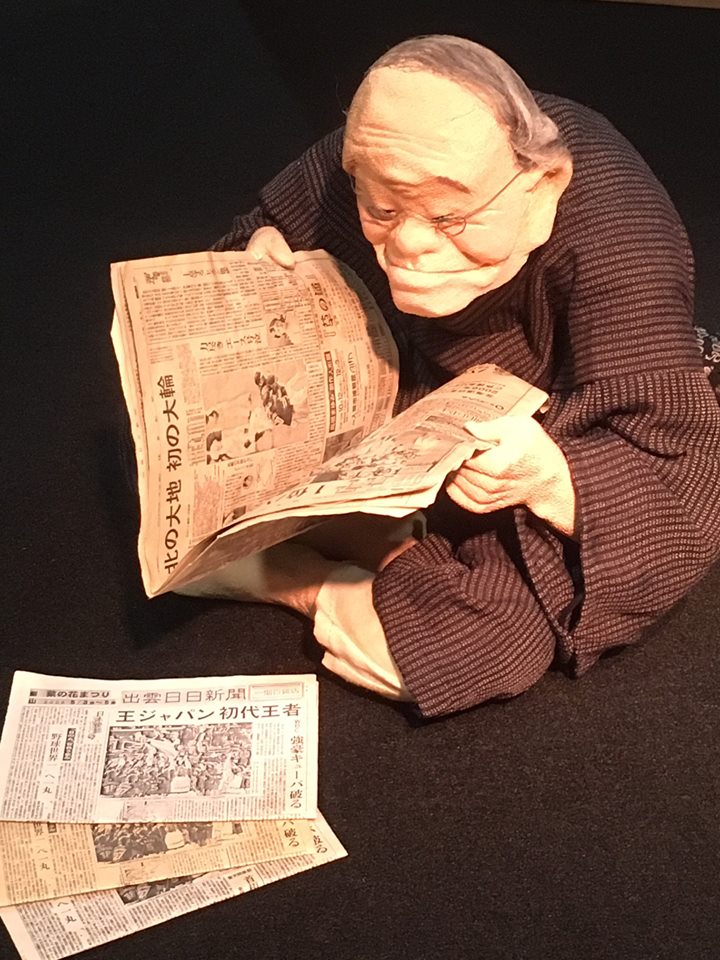 Mayumi Takahashi Museum of Doll Art
Mayumi Takahashi, a renowned artist portraying the lifestyles of citizens from rural Japan in her dolls, opened the Museum of Doll Art in Iiyama City, Nagano Prefecture, in 2010. The dolls that are displayed for viewing in the three galleries within the museum represent different stories which correspond to events that have traditionally taken place across the nation The focus is rural more than urban. Some of her stories allow visitors to learn about the Japanese countryside of the past and the present, including the influence of the samurais in rural Japan and other cultural legacies.
There is a doll presenting a tale about a stubborn old grandma who had left home due to an argument with her daughter-in-law. Mayumi Takahashi's favorite doll, however, was of two elderly farmers sitting together on the floor and enjoying each others' company. Visitors are also able to watch a video about how these dolls are created. The artist states that it usually takes between 3-4 weeks to create one doll, ensuring that each one is detailed enough to create a warmth of expression in its face and body.
After finishing the tour of the gallery, visitors are encouraged to check out the souvenir shop and the café if they are in need of postcards and other items to remember their trip. The admission price for the Museum of Doll Art is ¥610 for adults and ¥410 for elementary/junior high school students at the time of writing.
Just outside of the Doll Art Museum, there is a restaurant called Ajukura Tsukiakari, serving numerous Japanese dishes and only using fresh ingredients. These dishes being centered around the local area's traditional specialities, including rice balls as well as sasazushi, which is made from Iiyama's very own home-grown rice.
Handmade Paper Workshop
Travelers to Iiyama also have the opportunity to produce their own Uchiyama Paper like that found at the Iiyama City Cultural Hall Natura. This special type of paper is made with traditional ingredients, leaving out the chemicals used in western paper production industries.
When making your own Uchiyama Paper, you will be required to mix water with neri, a glutinous, starch-like substance, as the base of the paper. This form of material is scooped into a square-shaped tray, a motion which usually requires a few attempts until you have a good layer of pulp covering the tray.
Visitors also get the chance to decorate their own paper, adding in leaves, flowers, and feathers, according to their own choices. This paper can also be made into a postcard to be sent back to family and friends. See more details here.
Metal Engraving
One local metal engraving workshop allows visitors to participate in the work. It is led by craftsman Toshio Washimori. Participants will first be shown how to design their own piece of metal with delicate chisels. Each chisel has its own design, allowing the participant to be as creative as they wish. It can take as little as half an hour to make a small metal sculpture. See more details here.
Things to do in Madarao (Winter)
Snow shoeing
There are many different areas around Madarao Kogen Heights and Nabekura Kogen Heights where you can enjoy snow shoe activities. When the snow is heavy enough you may even be able to go walking over Nozomi Lake at Madarao Kogen. Nabekura Kogen Heights' Mori no Ie offers many different course options for trying out snow shoe walking. Guided tours tailored to your ability and fitness level are offered, so come and enjoy the beautiful local snowscape!
Iiyama Kamakura (Snow Hut) Village is located just outside of Iiyama city. The village is open for around one month, from the end of January to the end of February, and is made up of over 15 to 20 huts created from snow. At night the huts are illuminated by lanterns, creating a beautiful fairytale-like atmosphere that is perfect for family, friends, and lovers alike. Every year on the second weekend of February, The Snow Hut Village hosts a festival featuring live music, snow games, mochi cake pounding, snowmobile rides, hut making, and snow shoe walks, among other fun activities. At night there is a fireworks display, and the night sky above the village lights up with all kinds of beautiful fireworks, including colour changing peony fireworks and waterfall fireworks.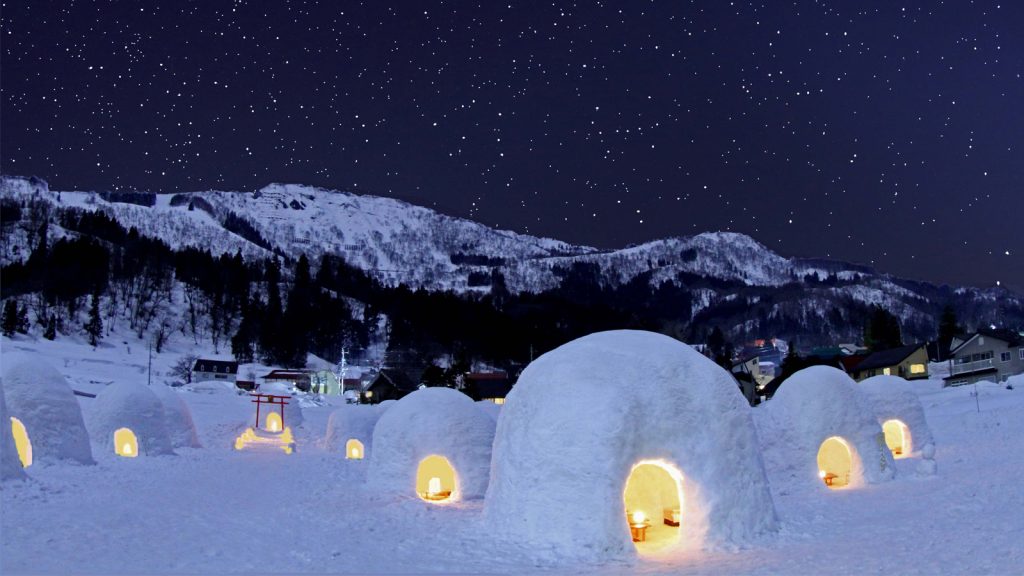 Meanwhile in the main area of Iiyama City you'll find a myriad of snow sculptures at the festival's downtown site. There is also a fire festival as well as a unique 'omikoshi' parade shrine procession, one of the only ones in the country to take place in the snow.
NY fireworks and midnight ski
Info coming soon!
Things to do in Madarao (Green Season)
Hiking (General)

From nearby Hokuryuko ski area there are several hiking trails that link up to eventually lead to the Inner Shrine of the Kosuge Shrine. It's a fairly steep slog up hill for forty minutes but the shrine is very pretty and the views back to the plain are great. There is also a freshwater spring next to the shrine to fill your water bottle up at! Lake Hokuryuko is also often used for kayaking.
The Madarao Plateau trekking route, which was selected as one of the "Best 100 walking routes" by the Yomiuri Newspaper, extends for around fifty kilometres in total at an altitude of around 1,000 metres. Other various courses are available to suit all needs, such as the Madarao nature trek as well as wetland and beech forest courses.
Hiking (Shinetsu Trail)
The famous Shinetsu Trail runs along Sekida Mountain, situated around one thousand meters above sea level. It is highly recommended to go on a hike along this trail, especially if you are a nature lover and enjoy going on long walks. With beautiful sights all along the path, this would be one activity to not miss out on. This particular trail has a lot of historical significance as well. The warlord Kenshin Uesugi led tens of thousands of his men through these passages to fight in the Battle of Kawanakajima in the 16th century.
It takes approximately six days and five nights to hike all the courses. Tents are available for hire if visitors would rather camp at night rather than stay at lodges. However, if you are looking for a shorter hike, routes are available where visitors can hike for just an hour or two. Tour guides are available upon request at reasonable rates.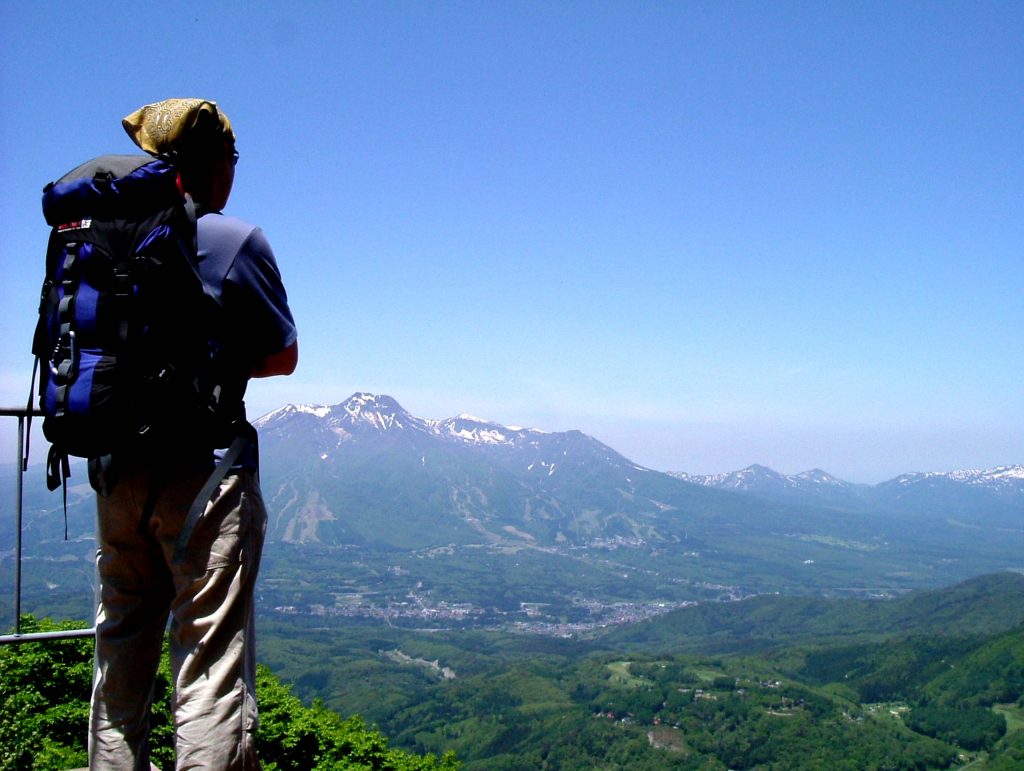 Golf
There are several excellent golf courses in the area including Madarao Tokyu Golf Club and Madarao Kogen Country Club.
Nabekura Kogen Heights Mori-no-Ie
Located at an altitude of 550 meters, this beautiful lodge resort can host a number of families who wish to relax and enjoy the natural surroundings. Visitors can take part in a number of activities, such as walks through the forest and barbeques. This is also the perfect resort to base yourself in if you wish to trek the Shinetsu Trail. Bikes and hiking gear is prepared for rental if needed. The lodges themselves are well furnished, offering residents comfortable accommodation with western beds, as well as futons if needed. The area is also extremely clean and safe. In the management house, residents can relax and purchase food and drinks. See reviews.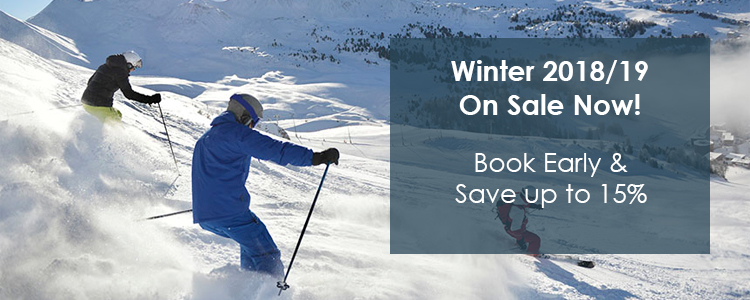 Shikisai no Yado Kanoe
This lodge is situated near a landscape of rice fields, mountain ranges, and a vegetable farm. Similar to the previous lodge, this accommodation is also an excellent base if you wish to hike the Shinetsu Trail. The location is also ideal for canoeing, skiing, and other seasonal outdoor activities. Guests sleep on futons, a more traditional Japanese style of bedding. Each meal at the lodge (read reviews) is also cooked fresh, often with the vegetables coming straight from the back garden. Make a booking.
Shiozaki Fruit Farm
Shiozaki Farm has been in operation for the past 45 years, specializing in grape and apple picking. Visitors are able to come, pick, and eat as much fruit as they wish, and also have the opportunity to take some home for them to enjoy. The best season is between August to October, a period which allows visitors to enjoy both the grapes and the apples. Weekdays and Sunday afternoons are the best times to visit, offering a relaxing, less crowded experience.
Kosuge Village
Kosuge Village is a small community where people known as the 'Yamabushi' live and train as mountain monks. They are quite self-disciplined and avoid all forms of indulgence. Every year on July 15, the Kosuge Gion Festival takes place. Once every three years this includes the Hashira-Matsusaito Shinji celebration, in which two wooden pillars are erected upon which two children race to the top to see who can light their fire first. According to the festival tradition, if the older child sets the fire first, then it signifies a coming of peace and tranquillity. However, if the younger child wins, then there will be an abundant harvest in the region.
Fishing
Lake Nozomi is only 5-10 minutes by car from Madarao. It is regarded as a 'hidden spot' of bass fishing – but getting more and more popular with each season. Other activities are also available.
Madarao Nature School
Throughout the year one can experience a number of nature-related activities, such as cascade climbing, rock climbing, furniture crafting with driftwood, silver craft, and braid making. Find one that fits your purpose.
Madarao Sports Passport
From 1st July until 30th September visitors can experience any of 20 different activities for only 4,500 yen. These include water skiing, rafting, paragliding, horse back riding, etc., as well as water and highland sports at Lake Nojiri, Lake Kibo and the Chikuma River. See the official Madarao site for more details and map.
Events in Madarao and Iiyama
Local Events and Festivals Calendar
Mid- February: Iiyama Snow Festival
Mid April: Cherry Blossom Festival in Iiyama and Nakano
Early July: Iiyama Gion Festival
*August 5th: Iiyama Dontokoi
*August 14th: Iiyama Fireworks Festival
*August 16th: Madarao Kogen Fireworks – 8.00pm
*Approximate dates and times only. Please double-check with the local tourist centre.
During Golden Week (the beginning of May), the Na-no-hana (Canola Blossom) festival is held in Iiyama. The Na-no-hana park overlooks the river and the plain and is a great spot for some random flower viewing and a picnic!
The Lake Nojiri Triathlon is an increasingly popular event for both contestants and spectators. It held every year around the middle of July. Lake Nojiri Triathlon entry forms can be found here (in Japanese). Competitors came from all over Japan as well as overseas.
Cherry Blossom Viewing
The ruins of Iiyama Castle built by the orders of feudal lord Uesugi Kenshin is one of the very best sakura locations in the region during the Iiyama Joshi Sakura Festival. About 400 someiyoshino blossoms cover the entire mountain in pink, and the cherry blossoms and narcissus blooming during the same season are equally gorgeous. From the castle ruins you can have a grand view of the Chikuma River flowing down along with with the mountainscape of Shiga-Kogen with snow left on its peak.
Narazawa Shrine Festival
This festival is also known as the "dance of the long-nosed goblin" which is one of the more popular celebrations in Iiyama, attracting people of all ages. Sarutahiko, the great long-nosed goblin, prays for peace during the festival and is seen dancing with a katana and a large torch, each having its own significance. The torch is lit in the evening, producing a huge ball of fire, a spectacular view during the night. This festival has a three hundred year history, attracting more visitors every year.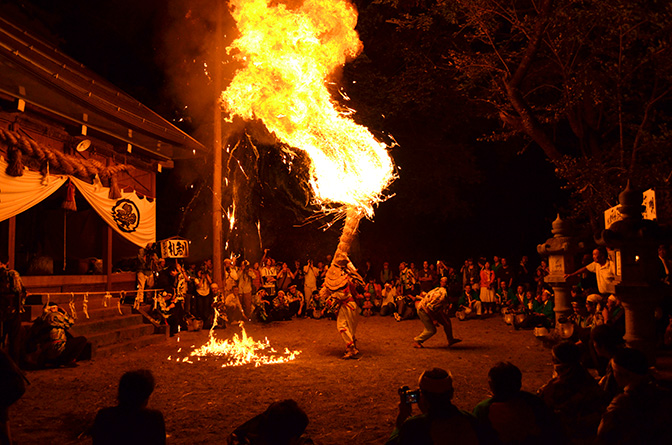 Shinetsu Trail Run
Info coming soon!
Further afield

Other nearby attractions
Info coming soon!
In nearby Shinanomachi lies the home of the revered Japanese poet, Issa.
Zenkoji Temple in Nagano City is also a popular tourist spot. Founded 1400 years ago, Zenkoji Temple houses a sacred image of Amida Triad Sharing One Halo and is deeply revered by the Japanese people. The image is completely hidden and a replica of it is put on display once every 6 years during a two-month long event known as Gokaicho (next is in 2021). In Zenkoji's main hall, for an admission fee visitors can enter the inner sanctuary as well as do the O-Kaidan Meguri — descend into a pitch-black, completely-dark corridor to search for the "key to paradise" that is located directly under the sacred image. If you find the key, it is believed you will be granted salvation. During the 1998 Nagano Olympics, Zenkoji's bell rang out to pray for world peace. The approach to the temple passes through the Sanmon Gate (built in 1750, designated an Important Cultural Property, offers a viewpoint on its 2nd floor) and Niomon Gate, and is lined by a myriad of shops and restaurants. On either side of the main approach are side streets lined by 'shukubo' temple lodging. They continue to be popular today especially by visitors wanting to participate in the early-morning Oasaji ceremony where the top priest(ess) imparts blessings on the attendees.
During late summer, areas of Kurohime Plateau (Kurohime-Kogen) become covered in the new blooms of cosmos flowers – more than a million blooms in every colour of the rainbow. In early summer lavender grows all over an area on the south face of Mount Kurohime.