Nozawa Onsen Ski Resort
Nozawa Onsen Village | Japan Powder Heaven
Nozawa Onsen Ski Resort is located in the northern part of Nagano Prefecture – a charming hot spring village located at the foot of Kenashi-yama Mountain which is home to around 4,000 people. It's just one hour's drive from Nagano City, 15 minutes from Togari Onsen and 25 minutes from Madarao Kogen. The village is said to date back to 8th century but has been renowned for it's hot springs and traditional inns since the Edo period. More recently Onsen Nozawa has also gained popularity as a ski area that features a great variety of terrain and amazing snow that's hard to match.
Looking for Nozawa backcountry guiding? Click here!
Fill in the form here to arrange your Nozawa ski school lessons and ski rentals
Nozawa Onsen Accommodation
There is nothing like combining light Japanese powder snow with a rich cultural experience and a deep soaking onsen. The village caters to this perfectly with a wide range of accommodation in Nozawa Onsen. This includes ryokan & traditional inns, budget accommodation options, minshuku, pension, ski lodges, hotels, inns or self-contained apartment lodgings. So there will always be a number of Nozawa hotel options to suit both your style and budget.
Search Nozawa Onsen Hotels with our valued partners – get instant confirmation!
Nozawa Onsen offers more than just a ski trip though – experience not only the culture, food, famous hot springs and the renowned fire festival – but also the ambience and great après ski which sets Nozawa apart from other areas. The village features some amazing traditional architecture with temples, shrines, hot spring establishments, traditional ryokan and free foot baths along many of it's streets. Even though the village is small there can be over 100 restaurants and bars open during ski season – from well known western-style bars to small hole in the wall shokudo. Any visitors fortunate enough to be in Nozawa early in the New Year (January 15th) should not miss the Dosoujiin Fire Festival, one of the most famous and exciting fire festivals in Japan.
Nozawa Onsen Ski Resort: General Information
Nozawa Onsen Ski Resort is a large ski area that opened over seventy years ago. As seen in the picture below, the village is located at the foot of the Nozawa ski resort, which spans across three main areas. There is plenty of terrain to explore, offering over fifty kilometres of trails or pistes beginning at an elevation of 1085 meters with 297 hectares of skiing surface. One of the pluses of skiing at Nozawa is that there really is something for everybody (see stats below). There are family friendly wide open pistes, some difficult mogul runs plus it offers some great powder days between the marked runs too. Active skiers will find a terrain park with jumps, rails, boxes and an eighty metre pipe to get the adrenalin pumping.
Nozawa Onsen Ski Resort: Families
If you are at Nozawa Ski Resort with children there is a free rest station for kids called the 'Naski Room' on the 2nd floor of the Hikage Trail Information Centre which is easily accessible from the village via the moving 'Yu-road' (free of charge) – see the map links below for more details. Outside the centre there is a safe and secure Kids Park. This fully equipped park has many facilities such as an inflatable bouncer, junior sled rides and tubing courses.
A day care with fully qualified child care workers is available on the second floor of the Hikage Centre for children 1 to 6 years old. The hours are 9:00~12:00 & 13:00~16:00 (you must collect your child during lunch). The charge is ¥4,000 for the first day and ¥3,000 from the second day on for those who continue to use the service for multiple days. There are also half day and hourly rates available depending on capacity (maximum 20).
Nozawa Onsen Ski Resort: Trail Map
Click on the map or here to download a Nozawa Ski Trail Map. Nozawa Ski Resort expanded their "powder snow areas (非圧雪)" for 2018/19.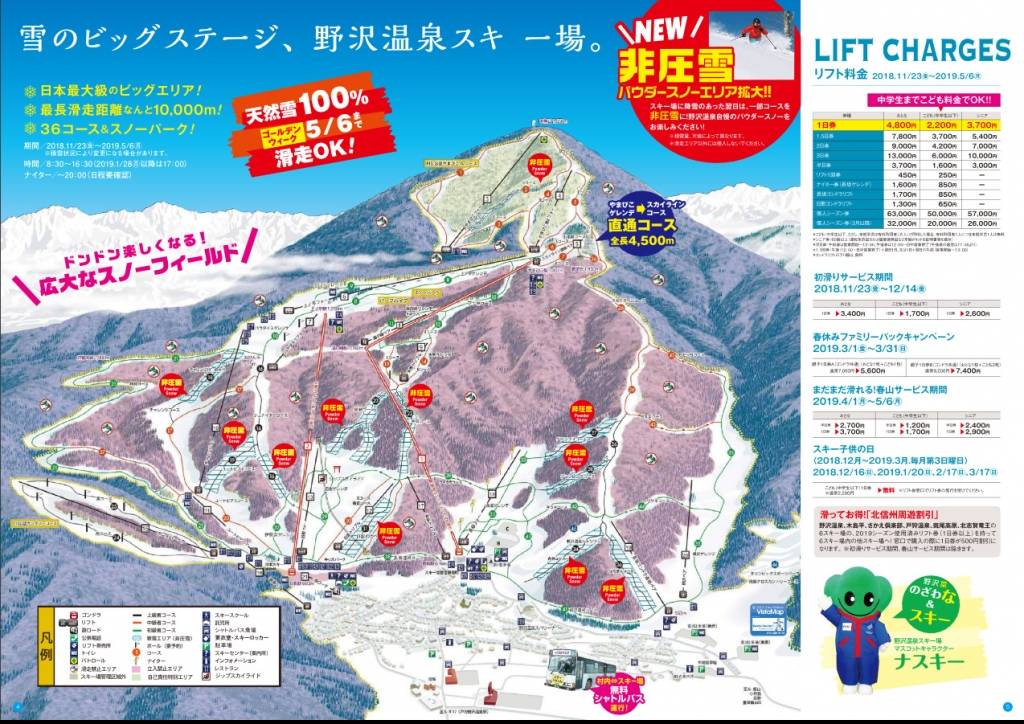 See this maps page for the layout of the village and ski areas or, even better, this extensive google map page.
Nozawa Onsen Ski Resort: Key Information
Resort altitude:
Top – 1,650 metres
Bottom – 565 metres
Season dates, times:
Mid December till early May
Day: 08:30 – 16:30
Nighta: ~20:00
No. of lifts, courses:
21 (Eighteen chair lifts, one moving walkway and two gondolas)
36 Courses
Skill level:
Beginner 40%
Intermediate 30%
Advanced 30%
Nozawa Onsen Snow Depth & Conditions
Click here (will open in new tab)
Nozawa Onsen Snow Report
Check out regular snow, ski and weather reports directly from Nozawa Ski Resort
Nozawa Onsen Ski Resort: Ski School and Ski Rentals
Fill in the form here to arrange your Nozawa ski school lessons and ski rentals
Nozawa Onsen Ski Resort: Backcountry skiing & guides
Looking for Nozawa Onsen backcountry guiding? Click here!
Nozawa Fire Festival, Nozawa Onsen Dosojin Matsuri
When is the Nozawa Onsen Fire Festival?
The next Nozawa Onsen Fire Festival will be held on January 15th, 2020. It is held on the same date every year.
Looking for accommodation or hotels for the Nozawa Fire Festival? Click here!
Fire and snow always go well and the Nozawa Onsen Fire Festival, Dosojin Matsuri (or 野沢温泉の道祖神祭り in Japanese), exemplifies this as one of the three great fire festivals in Japan. The old roads that run like rivers between mountain towns in Japan are dotted with gods. Known as dosojin, they are deities of roads and borders with their stone statues usually enshrined at village borders. Dosojin are good gods for the foreign traveller.
It takes roughly one hundred villagers to build the shrine for the Nozawa Fire Festival. The trees are cut down in October and brought down from the mountain and through the village on January 13th prior to being made into a huge wooden structure or shaden. After the shaden has been constructed, the priest from Kosuge shrine performs a ceremony endowing it with a dosojin. The highlight on January 15th is a "fire-setting battle" which ends up with the setting fire of the shaden with blazing torches by the offensive team and the offering of torches to the deity, making the festival truly spectacular and exciting.
How long is the Nozawa Onsen Fire Festival?
The entire festival is quite lengthy and can take up to four hours from the beginning to the end. Some observers gather just for the main attraction which is the battle between the guards and the torch bearing villagers. Add liberal servings of saké to all of the above and you're sure to go home buzzing after seeing quite a spectacle – and maybe a bit scorched from the flames (don't wear your new down jacket). The famous Nozawa Fire Festival is nationally designated as an important intangible folk cultural property.
What is the meaning of the Nozawa Onsen Fire Festival?
It originally began as an invocation for a good harvest, health and good fortune in the coming year, but has been expanded to include a good ski season as well. Taking place on January 15th every year, the festival is staged by men aged 42 and 25 (so-called "unlucky ages") to celebrate the birth of a family's first child, to dispel evil spirits and also to pray for happy marriage. If you want to see more detailed background information on the Nozawa Fire Festival check this excellent local perspective.
If you are coming to the Dosojin Matsuri book early! Accommodation for the Nozawa Fire Festival fills up fast.
Search Nozawa Accommodation & Hotels with our valued partners – get instant confirmation!
Rate Nozawa Ski Area

Read and review
Nozawa Onsen Ski Area here
.
Tags: Nozawa Guide, Nozawa maps, Nozawa accommodation, nozawa fire festival, Nozawa hotels, Nozawa Onsen Ski Resort, Nozawa ski info, Nozawa Onsen Weather, Nozawa webcams, When is the Nozawa Onsen Fire Festival?