In need of some Madarao backcountry fresh? Or simply need a Madarao ski guide to show you the best in-bounds stashes? How about checking out some new backcountry trip options in and around the Madaraokogen area? You've come to the right place!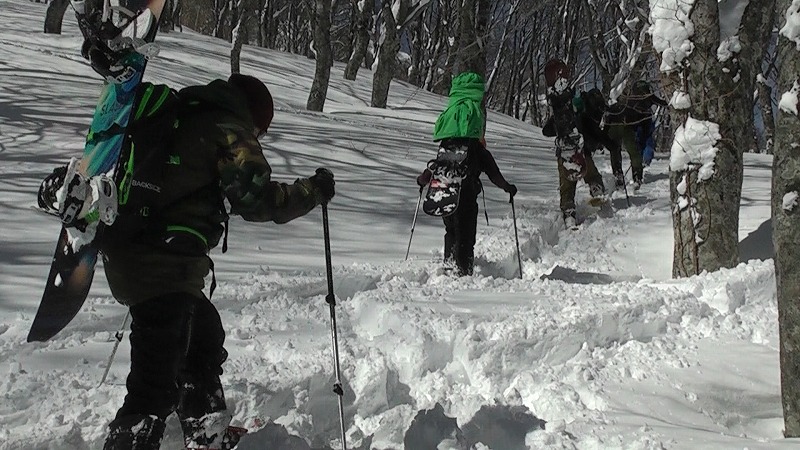 Madarao Backcountry Tours & Madarao Ski Guiding
Madarao Backcountry Ski: Overview
The local mountain range lies close to the Japan Sea and includes several high summits, including Myoko, Mitahara, Akakura, Kurohime, Madarao, Mae and Maru. This proximity to the ocean draws in heavy snows – an arguably weak point that is however more than made up for in the sheer volume that falls. It's not uncommon to witness a metre of fresh fall in one night, so those heading off-course are encouraged to pay close attention to the weather and avalanche signs. Short hikes allows access to some great backcountry treeline terrain with varying slopes and aspects. The peak of Mt Madarao is on 1340m high so best to head here mid storm (with a Madarao guide) to get the best conditions. With easy hike access, steep entry zones, consistently deep mid-season snow packs, wonderful continuous pitch through evenly spaced trees for upwards of 700 vertical metres and smile-inducing magical scenery the Madarao back-country creates a special off-trail riding environment that every backcountry snow slider in Madarao will appreciate.
Nozawa Onsen backcountry tours info here!
Myoko Kogen backcountry tours info here!
Madarao Backcountry Ski: Video
Madarao Backcountry Ski: Tours
Destination Madarao Kogen is pleased to be able to help offer group and private backcountry tours in Myoko, Nozawa and Madarao. These are run by locally owned and operated operations with experienced Madarao backcountry guides.

Madarao Backcountry Tours – full day
These full day tours start from 20,000 yen per person and are run by a well established local operation with experienced Madarao guides. Guided pow tours run Jan 15th – March 15th (8.00 – 4.30pm) but may vary due to lift operation circumstances. The route will be chosen and customised by your guide to match your skill & experience level.
The terrain allows for a plethora of route options ranging from lift access short hike powder bowls to long run touring. They have something for all levels and styles.
Ready to book your Madarao ski guide? Fill out the the form below.
Use the form below to request your dates. Please ensure your travel insurance will cover any circumstances that may occur during your tour.
Note: If Madarao is not showing on the form, enter Nozawa as your choice and click 'next'. Click 'Backcountry' then enter Madarao as your requested tour within the 'comments or request' section.
Form not working? Contact us here.
Nozawa Onsen backcountry tours info here!
Myoko Kogen backcountry tours info here!
More Madarao Kogen Back Country Tours
Enjoy fun off-piste and backcountry ski tours in Madarao Kogen via North Nagano Outdoor Sports!
Madarao Kogen Backcountry tours are aimed toward enjoying the natural landscape of Mount Madarao through skiing and snowboarding. There are several paths leading up the mountain and hiking up to the top takes around 20 minutes – perfect for beginners. From the top of the ski lift skiers hike to the very top of Mount Madarao. From there you'll experience a fun back country ride with a tree course and natural half pipe as well as an encounter with 'Tarzan' and 'Big Rock'!
Your experienced local Madarao ski guide determines the best course of the day by checking out the snow conditions every morning. Madarao Mountain has plenty of north face and guests can expect a high quality of powder snow almost every day. However please understand there can be sudden course changes or suspension due to inclement weather.
Price (per person)
The half-day (3 hours) tour cost is 8,000 yen
The day tour (6 hours) tour cost is 13,000 yen
Both tours include beacon rental but you need to bring your own lunch and snacks. Minimum age is 16 + and at least two people in a group needed. Snowshoe rental is an extra 1,000 yen per person.
Private backcountry trips for Madarao are also available – fully customisable to suit your riding ability and physical fitness.
Ready to book your Madarao ski guide? Fill out the enquiry form to start!
Form not working? Contact us here.
Tags:
Madarao ski guides, cross-country, Japan backcountry tours, Madarao snowshoe tours