The Independent Madarao Kogen Guide
Destination Madarao Kogen is your independent Madarao Kogen guide. See more about us here.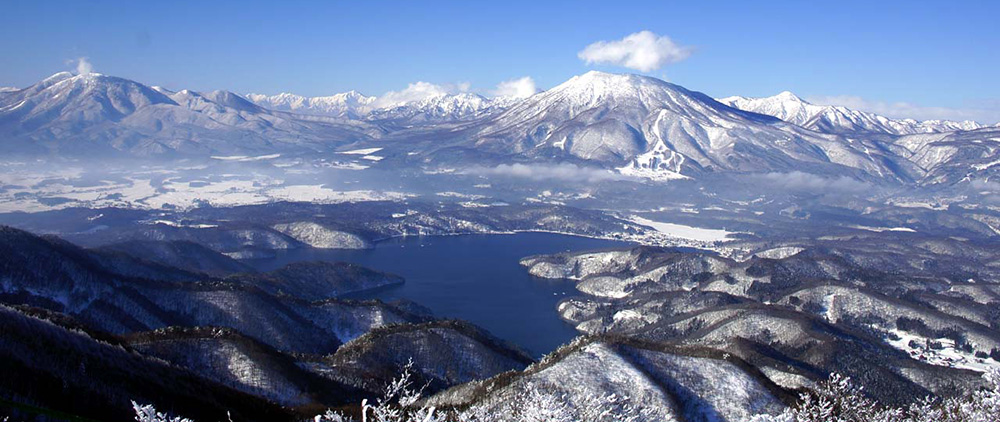 Madarao Kogen & Tangram Resorts in Iiyama City  and the surrounding areas area are located deep within the heart of the Japan Alps at the northernmost part of Nagano Prefecture, making it an excellent retreat during any of the four seasons. Here you can experience "ancient" Japan by visiting the many remaining temples or just by viewing its traditional landscapes that are spread across the region. Iiyama City is a former castle town within the Okushinano region of Nagano with many old Shinto shrines and Buddhist temples still standing side by side. The Chikuma River (the longest river in Japan) runs through the centre of the area and becomes known as the Shinano River when it passes into Niigata Prefecture. A virgin beech forest covers 400ha of Mt. Nabekura, providing great opportunities for hiking and sightseeing. The area prides itself on 'green tourism' and is known as 'Japan's hometown'
Why to Visit
Easy access. Only two hours from Tokyo via bullet train
Two resorts co-joined on one ticket
Trees runs, jumps and the famous Mada-pow!
English ski school and rentals
Great range of accommodation to suit all budgets
Easy access to other resorts like Nozawa and Akakura
Onsen, restaurants and kids activities.
Skiing & snowboarding in Madarao Kogen

Skiers can access both Madarao Kogen and Tangram Ski Circus ski resorts on the same day ticket. Nozawa Onsen and the Myoko Kogen resorts are only a short shuttle away whilst Togari Onsen and Kurohime Kogen are also a close drive away. Please refer to our ski and snowboard page for further information. You can check out current conditions at Tangram and Madarao resorts via our live web cams.

Tangram Ski Circus
Tangram Ski Circus enjoys a wonderful position overlooking Iiyama & Nozawa Onsen in one direction and, on a clear day, the spectacular mountains of Myoko Kogen and the Japan Sea in the other. Tangram is only is a small-medium sized ski resort but offers skiers and snowboarders an impressive 520 metres of vertical descent with some off-piste options. See more…
Madarao Resort
Madarao Kogen Ski Resort (a.k.a. Madarao Mountain Resort) is a unique bowl shape resort with 22 separate courses best suited to intermediate skiers and snowboarders. However there is some easy terrain for beginners, some fairly steep runs for advanced skiers and snowboarders, along with great tree runs to experience some famous Madapow!
See more…
Madarao Kogen Accommodation
Need a place to stay? There's a wide variety of accommodation in Madarao Kogen to suit all tastes and budgets from small cosy family pensions to newly renovated lodges, backpacker/hostel type offerings plus some large resort type hotels with great facilities like indoor heated pools. You can check out all the options here or go straight to our secure Madarao booking engine for some great deals.
Access & Maps
Getting here is super easy. Madarao, Iiyama and Tangram are located north-west of Tokyo and 30-60 minutes from Nagano City. See our
directions to Madarao here
or check the instructions at
Explore the Heart of Japan
. For medium-large groups we can help organise a direct shuttle from the airport or other resorts, whilst shared shuttles are available for individuals.
Webcams
Coming soon!
Check out some Madarao reviews
To Do
In addition to the great Madarao powder snow there are lots of other fun things to do away from your Madarao accommodation. For those having a ski rest day from their Madarao Kogen accommodation, or for non-skiers there is a variety of activities such as tours to various sites (Snow Monkeys, Zenkoji Temple, Lake Nojiri, Togakushi, ice fishing, shopping tours, etc.). Want to check out other resorts? Ski shuttles to Myoko Kogen and Nozawa Onsen are also available.  There are also events to take in such as the NY fireworks, a small fire festival, late night NY Eve skiing and much more! See here for more info…
Eat & Drink
Madarao Kogen tends to be a lot quieter in the eating and drinking department than it's near neighbours Myoko Kogen and Nozawa Onsen. Nonetheless after a day of getting in amongst the Madapow there are still quite a few small Madarao restaurants and bars in Madarao Kogen to relax with friends and meet the locals. These grow more every year. Get more details here...
Onsen
Many of the good hotels in the resort area have onsen (hot springs) plus there are several fine public onsen to be found in the nearby vicinity. Check out our Madarao Onsen information page to find the best places to soak.