Sushi is something uniquely Japanese. Sure you can get it readily in just about every other country in the world but why not get the whole experience when visiting Japan. If you don't want to hit up a traditional sushi-ya then try one of the many Nagano sushi train restaurants in the area. Sometimes called conveyor belt sushi, sushi train is another must do eating experience. Popular franchises include Kappa Sushi, Kaiten and Uobei. Don't know where/how to find them? Then ask your hotel hosts or visit our Madarao restaurants, bars and cafes page to find the local Iiyama sushi train.
Let's visit Nagano sushi train!
Sushi is a very healthy and traditional Japanese food, and eating at a sushi train restaurant in Japan is a great experience. This article will show you what to expect when you visit a Nagano sushi train restaurant in Japan.
Upon arrival at Nagano sushi train
When you arrive you will be allocated a seat or counter and provided a small clipboard ID with barcode. Sometimes if it's busy you'll need to take a number and wait. Try to go outside busy hours as some places are overflowing with people waiting.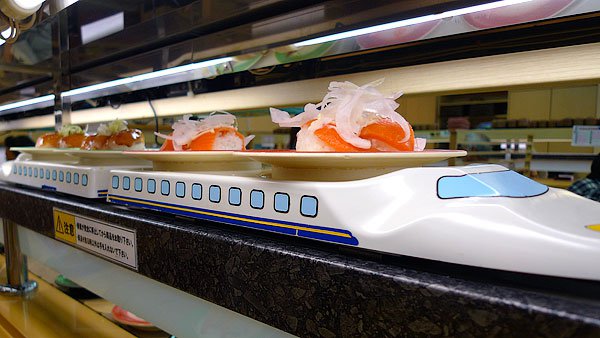 What to do at Nagano sushi train
A lot of sushi train restaurants have a conveyor belt with fresh sushi travelling around, so you can just snap up whatever you want to eat. Please note that if you're visiting at less busy times some of the sushi may have been going around the belt for awhile. However at most sushi train restaurants they have this very cool actual mini-train that delivers your food fresh from the kitchen to your table.
To order specialties from the menu, or fresh sushi which isn't on the conveyor belt, most sushi train restaurants have a touch screen pad, which you use to order food. At some places there is an English button so keep an eye out for it.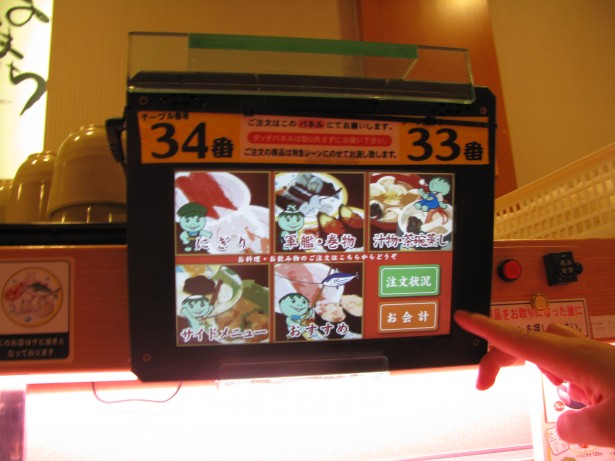 If there isn't any English, don't worry if you don't know much (or any) Japanese, the devices are really easy to use and there might be an instruction sheet somewhere if you ask.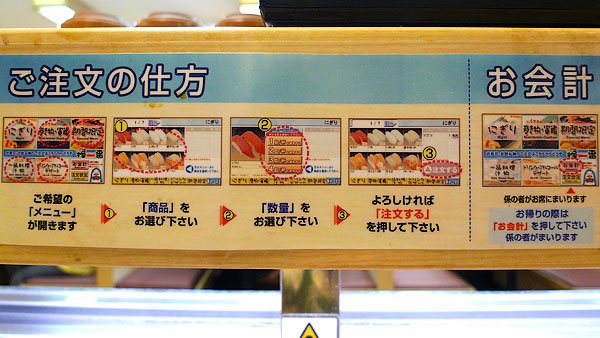 So order away and enjoy your Nagano sushi train! Usually you make several mini orders (the touch screen order can only fit 4 plates) and keep eating until we have a very high stack of used plates on the table.
Visiting a sushi train restaurant in Japan is a great experience, not only is the sushi fresh and cheap, there are many variations which include western style foods if you're not too keen on raw fish. There are lots of side dishes, including karage (battered/crumbed) dishes, french fries, desserts, noodles and many others.
The prices are great! Around 1/3 – 1/2 the price of sushi train in your home country.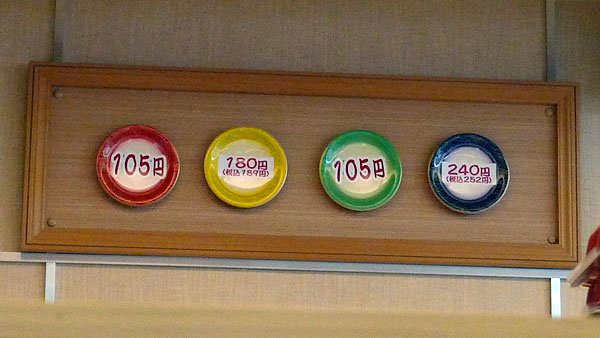 When you're finished at Nagano sushi train
When you're finished push the 'check' button and the waitress will come count the plates before giving you the bill to take to the cash register. If you're at a sushi train that only delivers food on a train just take your clipboard ID directly to the register.
And if you don't have time to sit down and enjoy all this, you can still experience it all when you get takeaway. You will be directed to an area along the conveyor belt which has the touch screen ordering device, as well as plastic takeaway containers.
Enjoy your Nagano sushi train! Check this video for more information
Let's visit Nagano sushi train! from Explore the Heart of Japan on Vimeo.