As Japan's world-class tree skiing attracts growing numbers of international riders each year, the progressive approach by Madarao Ski Resort to fun inbounds terrain has set it apart from other Japanese resorts and made it a favourite with visitors and local freeriders.
We caught up with Aki Kitamura, Madarao Ski Resort's former sales manager and resident gun skier, to find out what's been going on.

Madarao Ski Resort
Places you should ride in Myoko
"Six years ago we started chopping down trees to create a tree-skiing course," explains Aki. "But we didn't do it to target overseas customers – we just like it! A lot of overseas customers have realised that about our resort, so now it's a big sales point."
As a backcountry guide now with his own business, North Nagano Outdoor Sports, Aki knows Madarao's terrain well, and his enthusiasm for what's happening on his mountain is infectious.
After opening several gladed tree-skiing zones including 'Ninja' (a sidecountry-style freeride zone) and 'Sawa' (a large natural half-pipe) over the past few years, Madarao worked with neighbouring Tangram Resort (with whom they share a boundary and joint lift pass) to create even more terrain this year.
Madarao Mountain Resort Snow Season from wood house studio on Vimeo.
"We don't have enough room at Madarao for another run," says Aki. "Tangram changed their mind [about their 'no tree skiing' policy]… so we've put in a new tree course there this winter."
For powderhounds on the hunt for freshies in the forest, areas like Crystal Bowl, PowderWave I & II, Usagi and Riverline offer easy, open tree-runs on slopes in the 20-35 degree range. For the more adventurous, Ninja and Sawa's combination of natural and man-made terrain give riders an opportunity to mix deep powder turns with big air and features such as the notorious log-jam (a ride-off pine log ending in a 15ft+ drop).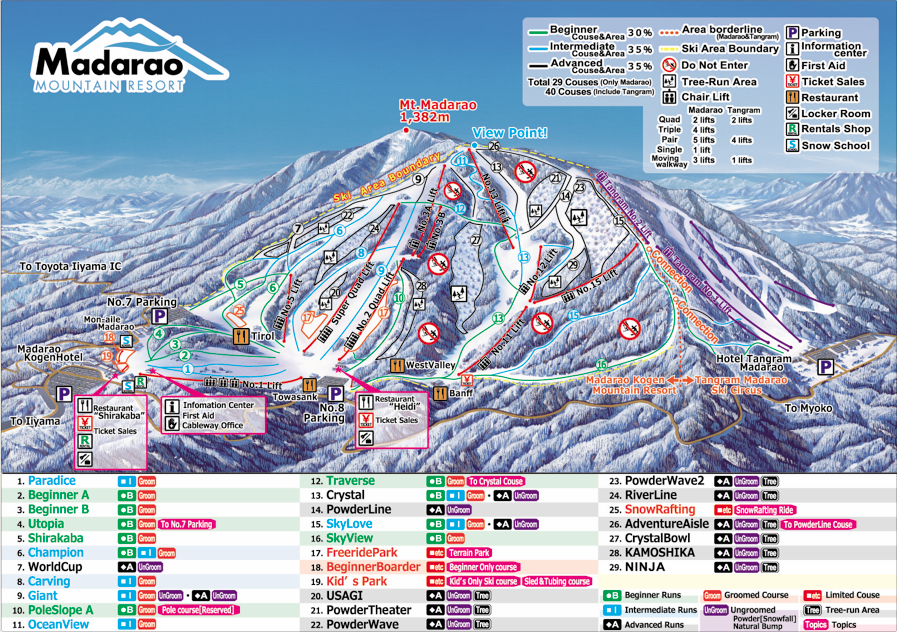 Click to view full-size mountain map
The brand of fun at Madarao Ski Resort is not just for the younger free-ride crew though. While many resorts' parks and technical side-country terrain are geared to experienced riders, there are options for riders of all levels. During our visit, local boarders launched huge drops off the log while families took camera-phone snaps of their kids playing on the small forest jumps just metres away. We watched ski-schoolers lapping groomers and 10-year-old kids learning to navigate through the trees. Everyone seemed to be having a good time.
Having spent a season as an on-mountain customer-service representative at Mt. Buller (an Australian ski resort with a longstanding relationship with Madarao Ski Resort), Aki understands the allure of Japan's perfect powder, but also appreciates that many foreign visitors come to enjoy the snow with partners and kids.
"Of course it's great for the powder lovers – for skiers and snowboarders – but it's also good for families. It's not a huge mountain. You can go up to the top and choose a beginner course or an advanced or intermediate course and meet at the bottom again."
This broad focus was reflected in the 2015-16 Visit Madarao Ski Resort Campaign, which offered free tickets to children under 12 years-old visiting from outside Japan.
The focus is on definitely on fun, but it's not a free-for-all. As with any resort, boundary ropes set up by patrol need to be respected.
"Of course if you're skiing under the chairlift or somewhere outside of the boundaries patrol will take your pass," Aki explains. "We do avalanche control on all our courses, so it's very safe. And if you do have an accident patrol will be there quickly to pick you up."
For those wanting to step outside the resort, backcountry access is available through the top gate. There are also plenty of options to ski back into the resort for lift-accessed sidecountry fun.
Sitting on the border of Niigata and Nagano prefectures, Mt. Madarao is small by Honshu standards at 1382m but offers spectacular views on a clear day. The recently-opened Adventure Isle traverse offers sweeping panoramas of Mt. Myoko, Kurohime and Lake Nojiri from the ridgeline, as well as access to some of the resort's best tree runs.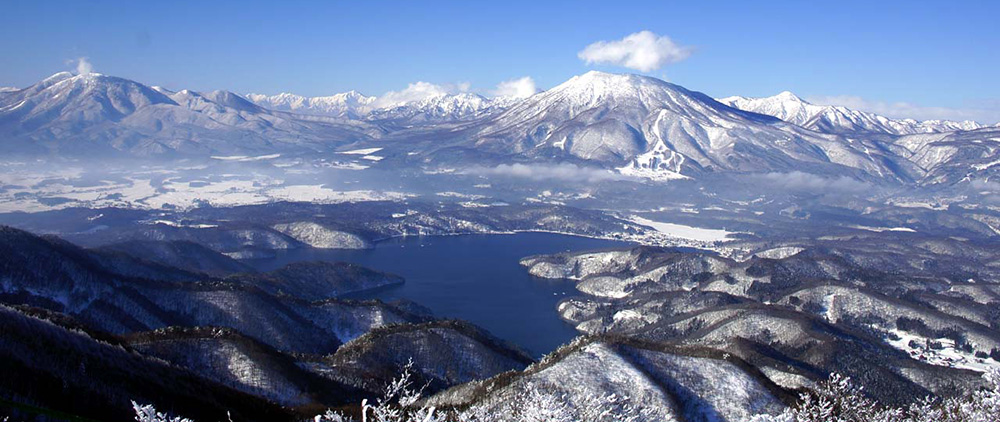 There's a lot to see and do on the mountain, but you'll easily be able to explore all it's runs in a full day. Despite typical Japanese lift infrastructure geared to on-piste skiers accessing the lower slopes, you can still access most areas without too much traversing and upload reasonably efficiently, despite some oddities such as the lower magic carpet back to the cafeteria.
Though Madarao's summit sits more than 1000m lower than nearby Mt. Myoko, it still receives plenty of snow. According to Aki, January snow base is typically around 2.5 metres. Last year it was 3 metres, though this year's unusually low snowfall meant many tree areas were still filled with bamboo-grass and shrubs in early January.
"We get a lot of snow," says Aki "It's good quality snow, and the weather is not as cold as in Hokkaido where it can get down to -15 or -20 degrees. It's -6 here today, very comfortable."
"And the powder is good. By good I mean wet – not too light. For example, after you get a [really dry] 50 cm snowfall, you can still hit the bottom and feel the ice underneath. Our snow is a bit wet and if we get 15-20 cm, it's easy to get flow through the snow without hitting the bottom."
January's cold weather and snow generally continue into mid-Feburary when sunny days are more common as Spring approaches. The ski season finishes in late March.
March is also the time for one of Madarao's signature events – the Madarao Speed Challenge.
"You just come down the mountain straight and we check your speed," explains Aki. "It's easy, no need to turn! You just need heart!" Visitors are welcome to participate.
Like many Japanese resorts, Madarao offers night skiing on weekends. They also host New Year's Eve nightskiing and fireworks, and a Dondoyaki Fire Festival in early January. Check more things to do in Madarao here.
There are various food options on the mountain including a large cafeteria offering moderately-priced food from ramen to hotdogs and tap beer, a convenience store and several small eateries.
If onsen are your thing, then head to the Madarao Hotel apres ski.


Transport to and from the mountain can be a hassle. Shuttle buses run from Iiyama station and Akakura Onsen but they are not frequent. A taxi from Myoko will set you back around 6,000 yen each way but may be the best bet for a group travelling together. Some hotels in Myoko like Red Warehouse will offer shuttles but check when making your booking.
Unlike the more well-known resorts at Nozawa Onsen and Myoko, Madarao doesn't have an old village at the resort base. With a scarcity of bars and nightlife, it's not the place to party. But if you've come to ride, there are few distractions.
"In the day you can get out and enjoy the powder freeriding in the resort or backcountry, then at night you can talk about the day over a few beers and get some sleep for the morning. It's a very comfortable place to stay and ski. Maybe in the future things will change, but for now we're happy for it to stay this style."

Madarao Ski Resort Overview
Pros
Tree-skiing. Madarao has it covered.
Good lift access between various areas.
Great views of Myoko, Kurohime, Lake Nojiri and surrounding mountains.
Varied terrain. From smooth groomers and moguls to sidecountry-style jumps and natural halfpipe, Madarao offers riders a great choice of runs off most lifts.
Cons
No open alpine. If you're after open bowls and steep faces, look elsewhere.
Snow dependent. With a large portion of it's terrain devoted to tree-skiing, Madarao needs a decent base before the bamboo-grass and shrubs are covered and patrol can open off-piste areas.
Small terrain park compared to other Myoko resorts.
Transport to and from Madarao can be an issue.
Good to know
You can get espresso coffee from the booth in the cafeteria.
Keep an eye out for Snow Monkeys in the trees on the drive over from Myoko.
The famous ski-jump toilet is a great photo opportunity.
Tickets
Madarao only day tickets cost 4,500 yen (2017-8). For an extra 500 yen you can ski Tangram too.
Getting there
Madarao Ski Resort is about half an hour drive from Myoko and 20 minutes from Iiyama.
A taxi will set you back about 6000 yen from Myoko.
Buses run from Iiyama station and cost 500 yen each way.
For more information head to our Madarao/Tangram ski info page