Place your business advertising in our hands, the most comprehensive English guide to Madarao Kogen
Advertise in Madarao Kogen
Why advertise with us?
Unlike other ski websites (which are world wide or all-Japan), we are focused on a hyper-targeted and responsive demographic in the local region. Destination Madarao Kogen and its partners are a recognisable logo/brand that speaks for itself. Our web visitors can connect with freestyle AND backcountry skiers, recreational AND hardcore skiers plus general travellers to the region.
We are recognised and trusted as the authoritative guide to the region
After many years we are the leading and trusted online voice for Myoko Kogen, Madarao Kogen and Northern Nagano. Although some other sites may claim to get more 'clicks' our focus is on only the local area. Visitors will not be overwhelmed and/or tempted by information from other resort areas and/or countries. This means that our visitors are far more relevant and likely to stay longer. Then, in turn, purchase or book via links on the site – thereby creating better value for advertisers.
We are not owned, operated or formally affiliated to any ski company, tourist board, government body or travel organisation. Therefore we are not under any commercial pressure to be biased toward certain interests and/or provide incorrect or misleading information. We often receive messages and emails thanking us for the services and unbiased information we provide.
You can reach thousands of potential travel customers
More than 1,000 consumers each day research their Madarao vacations using this and our partner sites (and many more during winter – nearly 60,000 total across four sites in January 2016) from all around the world. These particularly come from Australia, Europe and the U.S.A, as well as Japan – with visits averaging at least five minutes. Introduce your travel products and services (hotel, B&B, activity, tour package, rental/retail shop, restaurant, etc.) to thousands of qualified travellers. Around 50% of visitors usually 'out click' to one or more of the business links listed on the site, such as accommodation or ski areas.

Search engine reach
With targeted SEO our sites perform outstandingly. Destination Madarao Kogen pages are usually listed within the top three listings with popular search terms on all major search engines, sometimes TWICE within the top three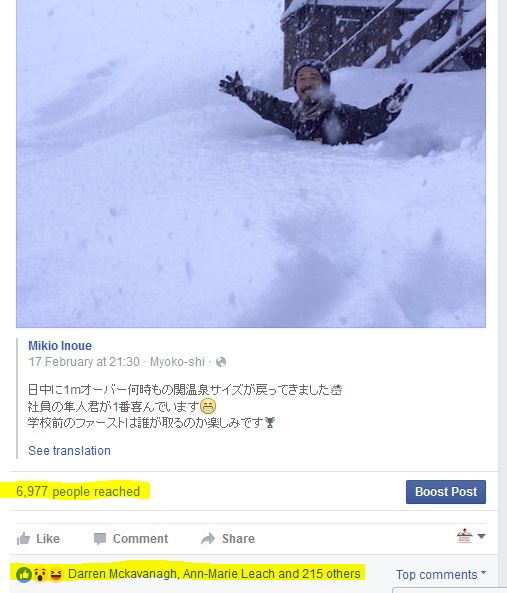 with a global traffic ranking of around 140,000 in the world.
Social media reach
Depending on the package negotiated we can also link your business at the top of our popular and comprehensive Google maps in your area, on our Facebook pages, Google +, Twitter, blog posts, our forum and other social media. Some of our Facebook posts/videos/pics have received thousands of views and likes.
The numbers
| | |
| --- | --- |
| 15 | Years in the business of spreading the great word about the region; |
| 4.5 | Minutes average time spent on the website; |
| New figures TBA | Unique monthly visitors (Ave. June-Dec 2018); |
| New figures TBA | Monthly page views (Ave. June-Dec 2018); |
| 0 | Better ways to reach people researching or heading for the area; |
Numbers for individual websites can be supplied if required
Deliver your message at just the right time
We can help you reach consumers at the very moment they are researching their trip to the area. As a hotel owner, for instance, you would benefit greatly from listing your property with us. Consumers looking for hotels in your area could access your information, including a description of the property and a photo, and be well on their way toward booking a room!

Support
We split our time between Myoko Kogen and Adelaide, South Australia. We also regularly travel to Hakuba, Nozawa Onsen, Madarao Kogen, Nagano City and other parts of Japan to meet with clients. We can also discuss possibilities via Skype (look for us on Skype at Myoko-Nagano)
Our Advertising Rates
We offer competitive and cost effective rates for advertising on our sites. To discuss and receive a confidential marketing outline please contact us
This is an excellent opportunity to broaden your marketing to a focused market. Interested parties can take up more than one option/site or we can tailor something to suit. Feel free to e-mail us to discuss any matters further.
Advertise in Myoko, Advertise in Nagano