Nozawa Onsen Ski School
Nozawa Ski Rentals
Need Nozawa Onsen ski school, ski lessons, ski guiding or Nozawa ski rentals in English while you are in Nozawa Onsen Ski Resort? Please fill in the booking forms below and we will get back to you with a confirmation a.s.a.p. No matter how young or old, new or experienced, we can help arrange a variety of packages to suit any needs. If you're coming to Nozawa Onsen with the intention of learning how to ski, then you'll find there are plenty of Nozawa ski schools willing to help you out. We can also help get you kitted out with a great price on Nozawa ski rentals and gear.
Looking for Nozawa Onsen backcountry guiding? Click here!
Do you need also some accommodation in Nozawa Onsen? We have the widest range of Nozawa hotels and accommodation available from budget hostels right up to luxurious ryokan. Try our secure online Nozawa AccommBooker and get instant confirmation!
If our booking form does not work use our 'contact us' form instead

Nozawa Onsen ski school costs
Download full Nozawa Ski School prices here
Nozawa Onsen ski school booking form
This form is for Nozawa Ski School lessons

Enter your SKI RENTAL details at the bottom of the page
If the form above is not working try to use the booking form at this alternative site.
Nozawa ski rentals
The Nozawa Onsen ski rental shop in conveniently located right in the centre of the Village at Nozawa Central. The store offers the widest range of ski hire, snowboard hire and retail gear.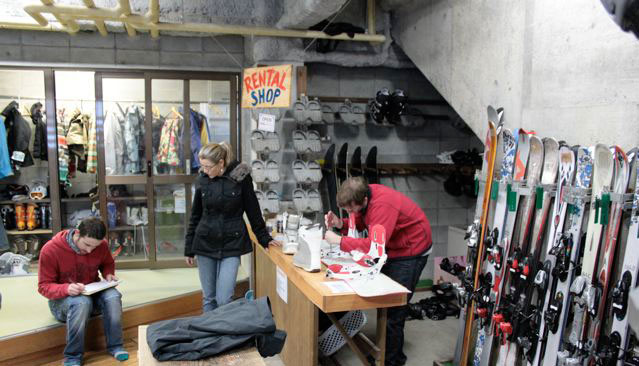 Adults can avail themselves of the following:
Premium skis for Nozawa's great powder;
Standard ski sets;
Fats / Powder ski setups;
Touring skis.
There is also extensive stock of kids/junior gear – modern, easy, and quality kids skis, wear, gloves and helmets.
Staff at the Nozawa ski rental shop are friendly, helpful and knowledgeable. All the technicians are English speaking and experienced riders themselves with many years of experience fine tuning and adjusting gear. They will be sure to get a perfect fit and style of ski or board to suit your individual needs.
To save the hassle of walking with your gear drop offs and pick ups can also be arranged with a Nozawa Ski Locker on the slopes near the main Nagasaka Gondola. This is FREE to use for any of our customers.
Nozawa Onsen ski rental costs & snowboard rental costs
Ready to book? Enter your Nozawa Onsen SKI RENTAL details here
Powered by

EMF
HTML Contact Form
Alternative form available here
More information on Nozawa Onsen ski schools
No matter what level you are currently skiing at the rustic and beautiful Nozawa Onsen Ski Resort will keep you happy all day. The ski schools at Nozawa Onsen can offer a variety of lessons and activities throughout the Nozawa Onsen ski season suited to the very young to the not so young, from absolute beginners to powder hungry snowboarders or would be downhillers. Nozawa Onsen ski schools are a good place to advance your skiing and snowboarding skills, gain useful advice and swap ideas with instructors and classmates. When choosing your Nozawa Onsen ski rentals just remember that there are long, gentle cruisy slopes ideal for wide turns as well as more challenging slopes or trees to keep the interest of those starting out in addition to those looking to push their limits.
Please note that some Nozawa Onsen Ski School lessons may be full depending on the number of instructors available and the number of pupils enrolled on that day.
Search Nozawa Onsen Hotels with our valued partners – get instant confirmation!