[su_heading]About Madarao restaurants, bars and nightlife in Madarao Kogen[/su_heading]
Madarao Kogen tends to be a lot quieter in the eating and drinking department than it's near neighbours Myoko Kogen and Nozawa Onsen. Nonetheless after a day of getting in amongst the Madapow there are still quite a few small Madarao restaurants and bars in Madarao Kogen to relax with friends and meet the locals. If not stated no English menu is available so, unless you just want to point, don't forget your Japanese phrasebook!
Madarao Restaurants, Madarao Kogen Bars, Pubs, Cafes & Places to Eat
[su_row]
[su_column size="1/5″]
[/su_column]
[su_column size="4/5″]
During the day Aki offers great coffee and a wide variety of tasty food.At night lots of cocktails, cold beer and good music!
OPEN
Lunch ランチ10:00am – 2:00pm
Coffee コーヒーのみ10:00am – 11:00am
Dinner 夕食6:00pm-10:00pm
[/su_column]
[/su_row]
Check their Facebook page for more detailsThe following information has been provided by various sources. If you'd like to add your review on any establishments please contact us via this page. We value your opinion.
[su_highlight background="#999aff"]Madarao Restaurants, Madarao Kogen Bars: [/su_highlight]
Dining Restaurant Rudolf offers traditional Japanese meals alongside all your favourites like pizza, pasta and chicken. See reviews
[su_row]
[su_column size="1/5″]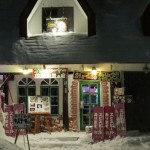 [/su_column]
[su_column size="4/5″]
Nori-Ra is a small Japanese style bar with traditional Japanese food that is to die for. The owner is a killer snowboarder and you can find him most days lapping the park. Perfect to unwind after a day in the pow or a great place to get a bit wild if you feel like kicking on! See reviews
[/su_column]
[/su_row]
At Madarao Kogen Hotel the main restaurant is Piedmonte, serving up mountains of food in the form of a family friendly buffet. The quality of the buffet is very good, and for breakfast and dinner they serve up a huge range of western and Japanese food. All the food is labelled with Japanese and English signs, which can be handy when you're staring at very unfamiliar food.
The Furusato Restaurant is more formal and offers gorgeous views across the night skiing area. The Japanese food is exquisite, and go here hungry because the kaiseki style courses just keep appearing. See reviews
[su_row]
[su_column size="1/5″]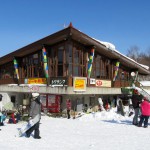 [/su_column]
[su_column size="4/5″]The on piste restaurant Heidi has over 800 seats, obviously making it Madarao's largest restaurant. A variety of meal option guarantees something for every skier. Spicy tofu hot-pot (¥1100), gorgonzola-flavoured beef stew (¥1200), mushroom cream pasta (¥1000), crepes,etc. See reviews [/su_column]
[/su_row]
[su_row]
[su_column size="1/5″]
[/su_column]
[su_column size="4/5″]Jazzy has good, reasonably priced food, in a tiny restaurant, full of jazz memorabilia. Service is friendly and personal. Offers Italian, French, Japanese & Fusion cuisine. See reviews [/su_column]
[/su_row]
Coffee Shop Inaka is a small local shokudo located just near Jazzy. See reviews
Next to the Kids Park, Restaurant Tyrol has a kids room and other child services available.  Suitable for families.   9am-4pm.  150 seats.
Found in the lower part of Crystal Course is Restaurant Banff.  Popular meeting place as well as restaurant.  9am,-4pm.  250 seats.
It's worth heading down the hill into Iiyama City at least one night during your stay. There's a night bus that heads into town at 4pm so you can visit one of various restaurants around the train station. Ask your Madarao accommodation for more details or see if they can help you arrange a sushi train visit and/or shopping tour.
Got some other Madarao restaurants to add? Send us the details!